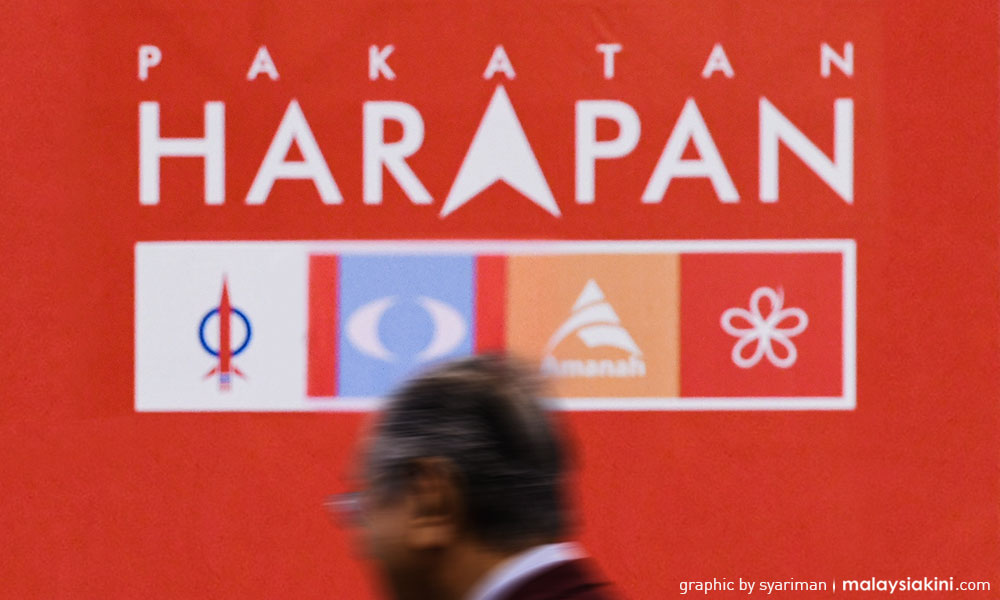 Perak Pakatan Harapan has urged the coalition's central leadership to resolve overlapping claims between PKR and Bersatu involving two state seats, according to several sources.
They are Pangkor, which falls under the Lumut parliamentary constituency, and Tualang Sekah, which falls under Kampar.
"Both parties want Pangkor because they have good candidates. PKR is mulling fielding incumbent Lumut MP Mohamad Imran Abd Hamid," a source told Malaysiakini.
The retired navy first admiral will be fielded elsewhere as PKR lost the Lumut seat to Amanah during seat negotiations earlier this month, the source further stated, adding that Bersatu is also planning to field a retired navy officer of their own in Pangkor.
In the 13th general election (GE13), as many as 12,766 Royal Malaysian Navy personnel voted in Pangkor, but Perak Menteri Besar Zambry Abdul Kadir held on to the seat with a 5,124 majority.
As for Tualang Sekah, the PKR source said that the party planned to field Perak Youth chief Mohd Azlan Helmi, who has worked the ground for over two years as the prospective candidate.
"Bersatu claims it has a good candidate (for Tualang Sekah) too," the source added.
Tualang Sekah is held by the state executive councillor of tourism, arts and culture, communications and multimedia, Nolee Ashilin Mohammed Radzi, who won with a 2,036 majority in GE13.
"Now, we will leave the matter to the election committee of the coalition central leadership, which has yet to make a decision on the overlapping claims," the source said.
DAP getting the most Perak seats
Meanwhile, another source confirmed that DAP will keep all 18 of the 59 state seats it contested and won in 2013.
This is followed by PKR, which is said to have been allocated 15 seats, a reduction from the 20 it contested in 2013.
Both Bersatu and Amanah were allocated 12 seats each, with the two remaining seats still undecided.
PKR is expected to stand in Simpang Pulai, Teja, Kuala Kurau, Kuala Sepetang, Hutan Melintang, Kenering, Alor Pongsu, Temengor, Pengkalan Baru, Chenderiang, Batu Kurau, Lintang, Chenderoh, Sungai Manik, and Bukit Chandan.
Bersatu is expected to stand in Pengkalan Hulu, Kubu Gajah, Hulu Kinta, Manong, Trong, Belanja, Bota, Kota Tampan, Behrang, Gunung Semanggol, Air Kuning and Kamunting.
Amanah is expected to stand in Selama, Lubok Merbau, Manjoi, Kampong Gajah, Slim, Pasir Panjang, Sungai Rapat, Titi Serong, Changkat Jering, Rungkup, Changkat Jong and Selinsing.
Malaysiakini was unable to obtain any confirmation from state leaders, as they had agreed not to reveal the list to the media.
As for parliamentary seats, Harapan settled its negotiations earlier this month, with DAP set to contest all seven of the seats it won in 2013.
PKR, which contested 10 parliamentary seats in GE13, will only take Gopeng, Padang Rengas, Bagan Datuk, Tanjung Malim and Sungai Siput.
Both Bersatu and Amanah will take eight and four parliamentary seats respectively.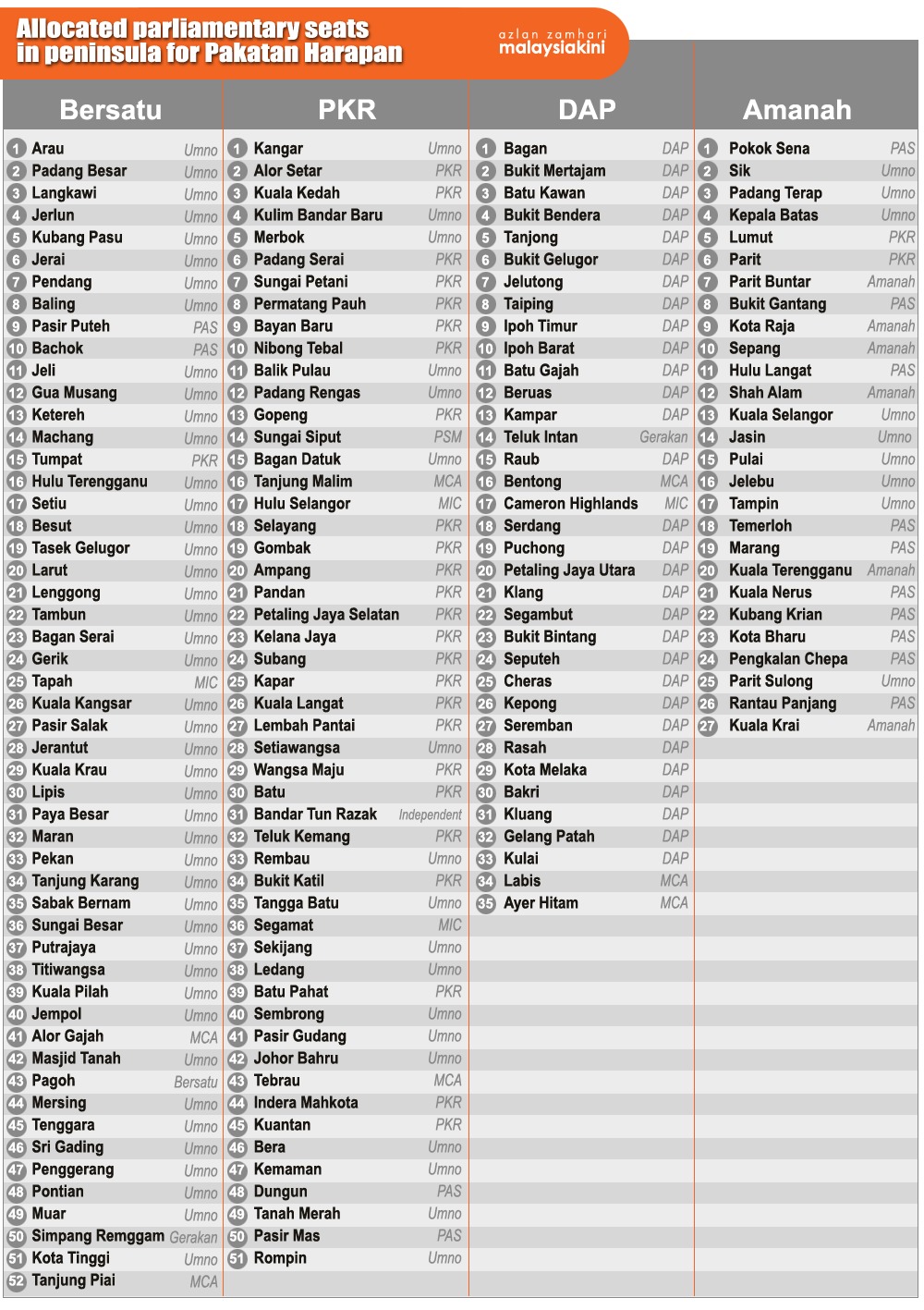 - Mkini