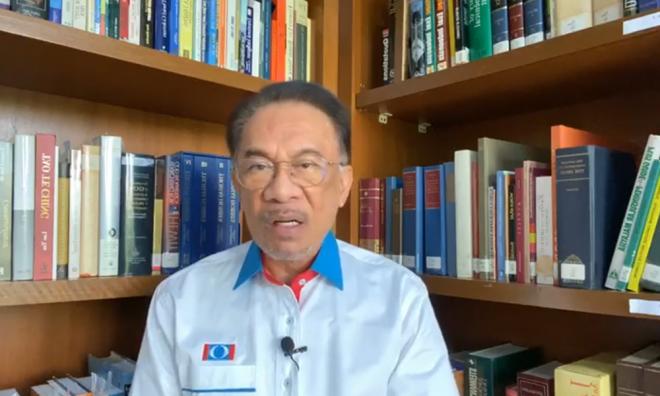 PKR president Anwar Ibrahim today reassured Prime Minister Muhyiddin Yassin that the next Parliament session on May 18 will not be used to challenge Perikatan Nasional's majority in the Dewan Rakyat.
Speaking through a Facebook Live session, Anwar (photo) instead urged Muhyiddin to table the government's Bantuan Prihatin Nasional Covid-19 RM250 billion stimulus package for debate in Parliament.
"I have given my assurance to the prime minister, we (Harapan) will not be using this upcoming session to reject the government's majority if at all he is worried about the support for Perikatan Nasional.
"We will only debate and ask for an explanation on several issues from the prime minister, the finance minister and other related ministers [...]," said the Port Dickson MP.
Former premier Dr Mahathir Mohamad had previously indicated Harapan's plans to challenge the legitimacy of the Perikatan Nasional government in Parliament, although he later conceded that the plan has fallen through after some of his supporters had switched allegiance.
In the current context, Anwar said the country cannot be governed by one or two know-it-alls, and the current situation where the overall federal budget income projection have been slashed must be debated in Parliament.
He noted that among matters to be further scrutinised include financial impacts of various reliefs under the Covid-19 aid, in anticipation of a declining economy.
"[...] he (Muhyiddin) must answer because it involves public funds.
"It must be debated in Parliament and it must be approved by Parliament," said Anwar who, however, reiterated his call that the distribution of aid must be expedited from the announced date of end April or early May.
In making his call, Anwar pointed out that he had - as then finance minister - sought Parliament's approval for the use of RM2 billion of public funds to bail out Perwaja Holdings Berhad.
He said this was despite he was authorised to disburse the funds directly.
"At that time, it was because of the losses incurred by Perwaja, I was forced to table (motion seeking RM2 billion) in Parliament.
"Even though I was the finance minister and can transfer the sum, but I followed the rules that it must receive Parliament support," he said.
On Friday, Muhyiddin announced an economic stimulus package totalling RM250 billion to help Malaysians face the Covid-19 pandemic and the effects of the movement control order.
Of the total amount, almost RM128 billion of the Pakej Rangsangan Ekonomi Prihatin Rakyat would be channelled to protect the people's wellbeing, RM100 billion to support the business community, including small and medium enterprises, and RM2 billion to further strengthen the economy. - Mkini