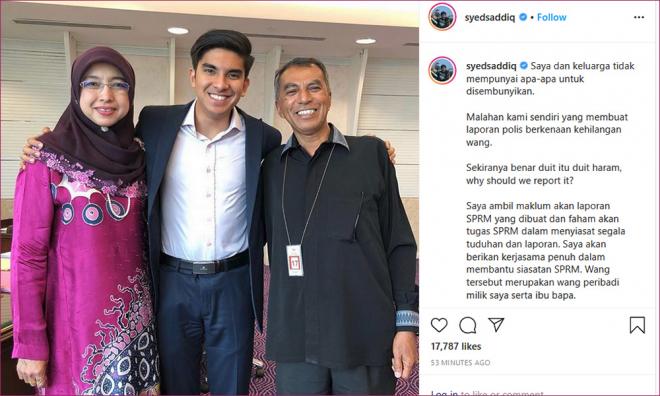 The bulk of the cash stolen from his residence in Petaling Jaya was meant for renovation work, according to former minister Syed Sadiq Syed Abdul Rahman.
Providing a breakdown of the sum, the Bersatu Youth chief, in a social media post, said RM90,000 belonged to him whereas RM50,000 to his mother and RM70,000 to both his parents.
Pointed out that the figures do not add up to the RM250,000 which was reported stolen, Syed Saddiq replied that this was an estimation.
"This is why I said let the police investigate.
"When police asked me, I said the maximum was RM250,000. But I need to ascertain this with my parents since they are also affected.
"So that is why in the official police report, it is (mentioned) 'anggaran' (estimated)," he said, adding that the sum mentioned in media reports varied between RM200,000 and RM250,000.
Furthermore, Syed Saddiq said his parents also lodged a police report on the matter.
In his social media post, the 27-year-old former minister said there was nothing amiss about the cash which was kept in a safe.
"My family and I have nothing to hide. In fact, we lodged police reports on the matter. If the money was haram (ill gotten gains), why would we report it?" he asked.
"The bulk of the money was withdrawn to renovate our house, which we jointly own. The rest was meant for personal use," he explained.
Syed Saddiq said since he does not own a house, his parents and him decided to acquire one.
"I was planning to move in when the renovation work is completed. The household appliances and furniture have not been purchased as yet," he added.
He was responding to a MACC report urging the commission to probe the former minister over the sum.
Syed Saddiq pledged to cooperate with the police and MACC, stating that he would not compromise on the subject of integrity.
Meanwhile, the Muar MP said he has instructed his officer to file a police report and initiate action against those who are slandering him and his family over this issue.
Yesterday, it was reported that Syed Saddiq discovered the money was missing from the safe at around 7pm last Saturday.
"The last time I opened the safe was on March 13 or March 14.
"There was no sign that the safe was forced open, and the house and room area remained tidy," he said in the police report.
He had
denied
initial reports that the money was from Bersatu. - Mkini