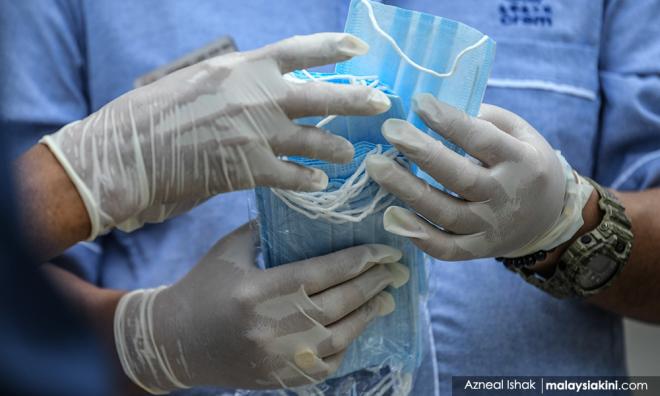 CORONAVIRUS
| Several pharmaceutical societies across the country have deemed the new RM1.50 ceiling price for three-ply surgical face masks "unjust" to community pharmacists.
In a joint statement by the Malaysian Pharmaceutical Society, Sabah Pharmaceutical Society and Sarawak Pharmaceutical Society, the three organisations expressed disappointment that the new ceiling price was decided allegedly without "reasonable notice or key stakeholder consultation".
This after the government revised the initial ceiling price of RM2 for each three-ply masks to encourage import to meet the shortage of supply domestically.
However, it was revised just days later after complaints by other quarters that the 150 percent price hike was
too high
.
Currently, RM1.50 marked an 87.5 percent increase from the normal ceiling price of 80 sen per piece before the Covid-19 outbreak.
"This treatment (revision of face mask ceiling price) is highly unjust to community pharmacists who have done their national duty and remained open during this crisis to serve the rakyat.
"The government's announcement that the ceiling price of three-ply medical grade face casks was capped at RM2 had spurred many pharmacies to initiate orders of face masks. This sudden change will cause widespread hardship amongst community pharmacies, importers, wholesalers and manufacturers nationwide.
"With this reduction, we are afraid that this will again dry up the supply of face
masks as even the local manufacturers are frustrated at this move," the statement said.
The new price will take effect tomorrow.
With this, the pharmaceutical societies urge the Perikatan Nasional government to either subsidise pharmacies over potential losses or allow a price deferment period of one month to clear out their stocks.
"Many (pharmacies) had paid in full or paid 50 percent of the deposit for stocks which are only due to arrive in April 2020. The reduction of the ceiling price to RM1.50 caught community pharmacies by surprise and leaves them no avenue to clear their existing stocks.
"Despite the removal of import and sales taxes, in states like Sabah and Sarawak, the cost is still high due to transportation charges. Therefore, many pharmacies in these states are receiving the face masks at the high price of RM1.90," they further claimed.
The statement also alleged that the government failed to recognise community
pharmacists as frontliners in the country's fight against the coronavirus pandemic, and as such, have not been identified as health care personnel who will receive free face masks reserved for frontliners.
"We hereby urge the government to take the initiative by instructing government agencies that all pharmacies are included in their list of allowed purchases of locally produced face masks." - Mkini