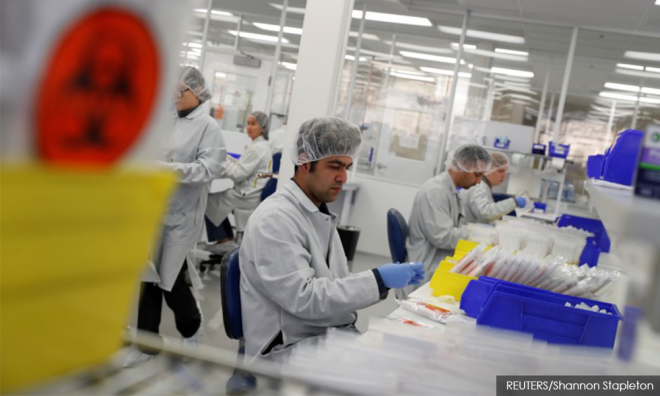 CORONAVIRUS
| World Health Organisation Western Pacific region Covid-19 incident manager Dr Socorro Escalante said they are still waiting for conclusive evidence on the efficacy of rapid test kits for Covid-19.
"We have not seen the evidence or potential performance of these tests to diagnose Covid-19 but research is ongoing and we will continue to look at the results as they come out," she said via a virtual press conference from Manila, Philippines this morning.
Malaysian Health Ministry director-general Dr Noor Hisham Abdullah had previously advised the public against the use of the Covid-19 rapid test kits (RTK) that could be purchased on the market.
He had explained that many of these tests differ from the ones used by the Health Ministry.
The ministry, he had explained, used a technique called "Real-Time Reverse Transcription-Polymerase Chain Reaction (rRT-PCR)" which is specially intended to trace the presence of the Covid-19 virus.
In contrast, he said, many Covid-19 tests sold on the market were rapid test kits which looked for the presence of antibodies against Covid-19 instead of the virus itself.
"Antibodies will only emerge in the body after five to eight days from the point of infection.
"RTK which detects antibodies cannot detect the virus or quickly confirm an infection. It cannot help in the early detection of Covid-19.
"Therefore, RTKs which detect antibodies are not recommended for Covid-19 diagnosis," Noor Hisham had said.
Escalante also advised caution when it came to the alleged efficacy of the drug Chloroquine in treating Covid-19.
"We are aware that some studies may have shown the effectiveness of Chloroquine against the virus but there have not been any controlled trials to show the safety and effectiveness of this treatment," she said.
Meanwhile, she said, WHO has launched a solidarity trial that is going to test the safety and effectiveness of several potential medicines across several countries.
She also denied that there has been evidence of there being two strains of the Covid-19 virus, an Asian strain and a more aggressive Italian strain.
"There has been a lot of research undertaken to understand this virus but so far there has been no evidence that there are different strains causing the disease," she said.
Escalante also denied that there may be mutations of the virus due to a tropical climate or any other types of weather.
"Our answer is we will continue to observe the information provided by the scientists and experts undertaking research on the virus around the world," she said. - Mkini