The Women and Family Ministry has offered some advice for wives and working mothers during the movement control order (MCO) period.
In a series of posts on its
official Instagram account
yesterday, it urged women to refrain from arguing with or nagging their husbands to do household chores.
"If you see your partner do something that is contrary to what you want, avoid from nagging but use 'humorous' words like 'this is the way to hang up clothes to dry, sayangku' while emulating Doraemon's tone and follow through with a giggle," said one tip.
Doraemon is a Japanese cartoon series. A Bahasa Malaysia dubbed version of the series used to air on RTM.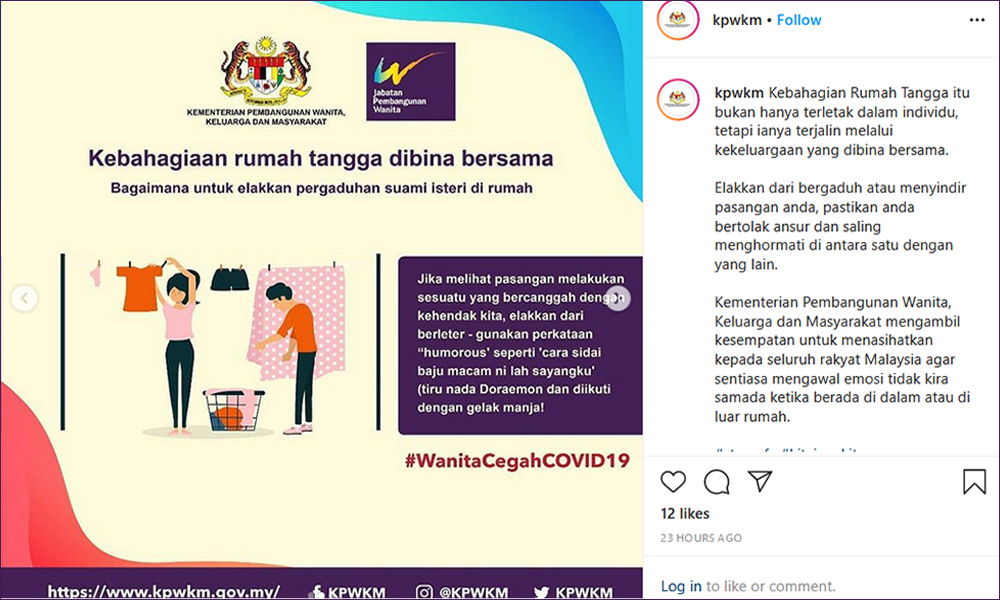 The ministry also advised women against being sarcastic with their partners.
Instead, it said that partners needed to be "informed" that they need to help around the house.
This was part of its campaign to reduce domestic arguments at home.
Wear neat clothes, makeup
For working mothers who needed to work from home during the MCO, it offered some tips to help women stay focused and productive.
"Avoid wearing home clothes.
"Get ready as usual,
wear makeup
and dress neatly," it said in a separate Instagram post, adding that women could work from the dining table, living room or kitchen.
The ministry cautioned against working mothers being too focused on work.
"We would to remind you not to be so caught up in work that you neglect your family members, possibly resulting in a violation of the MCO," it captioned the post, not explaining the reason for this eventuality.
The MCO began on March 18 and has been extended to April 14. - Mkini