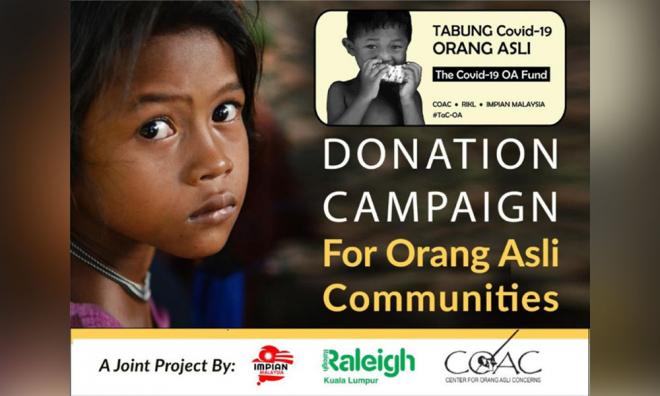 CORONAVIRUS |
As part of efforts dedicated to assisting Orang Asli communities affected by the Covid-19 outbreak, several rights group have come together to launch a "Covid-19 OA Fund".
The fund aims to raise RM30,000 for the Orang Asli and is a collaboration with the Centre for Orang Asli Concerns (COAC), Raleigh International Kuala Lumpur (RIKL) and Impian Malaysia (IM).
In a statement, the group said the livelihoods of the Orang Asli communities have been severely impacted by the ongoing movement control order (MCO) in force until April 14.
"Almost all of the Orang Asli communities have been affected, including daily-wage workers, subsistence farmers, rubber and oil palm smallholders, the disabled, the elderly and even the youth among them.
"They are not able to sell their produce or have lost their income sources," they said, adding that it has placed the food security of many Orang Asli communities at the brink.
As such, the group said funds raised would be used to provide the Orang Asli with food and other essentials. including face masks and hand sanitisers, as well as any other urgent assistance required.
"The funds raised will be channeled to a local coordinator, who is from the Orang Asli community and is known to COAC and its network members.
"The local coordinator will purchase and distribute the necessities, and account for how the aid has been used by way of receipts and photos," they said.
The fundraising campaign will run until April 14 but the group said they would consider extending the closing date if the MCO is extended.
Donations can be channelled to the bank account of Raleigh International Kuala Lumpur.
Name of Bank: CIMB
Name of Account: Pertubuhan Raleigh International Kuala Lumpur
Account Number: 8001067937
Donors are required to complete a donor form and attach the receipt after completing the transfer. The donor form is available
here
. - Mkini