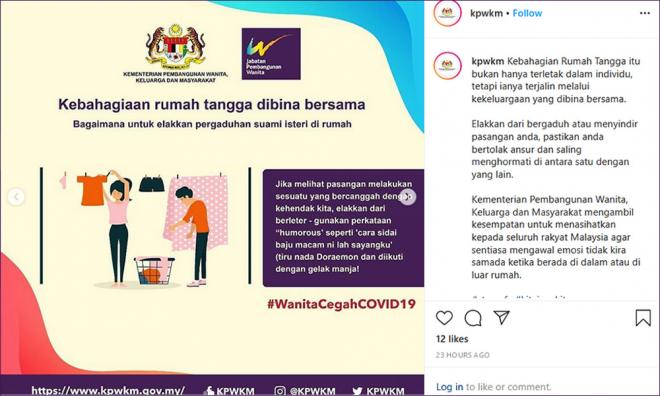 The Women and Family Ministry has come under fire for its eyebrow-raising
tips
for wives and working mothers during the movement control order (MCO) period.
Rather than focusing on women's appearances and tone of voice; activists and politicians have urged it to help women suffering from
domestic violence
and welfare woes instead.
Calling the ministry "out of touch", Women's Aid Organisation (WAO) executive director Sumitra Visvanathan shared how women have been reaching out to the NGO's domestic violence shelter since the first day of the MCO.
"The minister (Rina Harun) should be instead assuring survivors that services are in place to support and protect them, including rescues by the police when it is critically needed
"The ministry demonstrates that they are out of touch with their fundamental role to protect women and not reinforce stereotypes of women needing to look good for a good life," she told Malaysiakini.
Former Women, Family and Community Development Minister Hannah Yeoh similarly criticised Rina and her deputy Siti Zailah Mohd Yusoff for being "completely detached" from the reality faced by Malaysian women.
"In crisis time, political leadership is crucial to provide direction for government agencies.
"Many families are struggling to put food on the table let alone have spare money to spend on clothes and makeup," she remarked when contacted.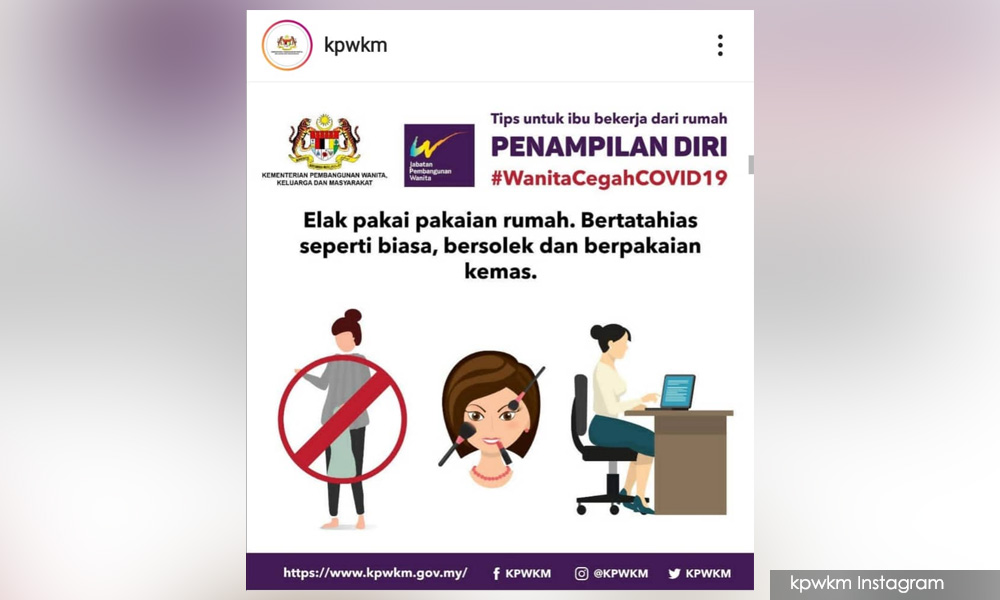 Petaling Jaya MP Maria Chin Abdullah echoed that the ministry ought to be working on meeting the welfare needs of women and families.
"Currently there are more pressing issues that the ministry needs to spend time resolving, for example over the confusion caused after the government
prevented NGOs
from distributing food.
"The seriousness of this issue cannot be understated because many of the poor families, including children, elderly, homeless and the disabled are starving and need urgent help now and have nowhere to turn to.
"Better guidelines must be implemented now to allow NGOs to distribute food while adhering to the strictest possible social distancing measures - this is what should be the priority of the ministry," she said.
As a measure to limit movement, Putrajaya has mandated that all food distribution to the needy be handled by the Social Welfare Department, a unit under the Women and Family Ministry.
'Sexist, misogynist' advice
In a series of posts on Instagram yesterday, the ministry advised wives against nagging their husbands and instead recommended they emulate cartoon character Doraemon's voice plus "giggle" to encourage their partners to help with household chores during the MCO. These posts have since been removed.
In another post, the ministry suggested that working mothers could don makeup and neat clothes to enable better focus and productivity. It also cautioned women against working too hard in case they neglected their family members.
Backbencher Azalina Othman Said said such advice perpetuated gender bias and misogyny - worse when coming from the ministry tasked with protecting women.
"I am disappointed that the ministry is condoning messages which go against the empowerment of women and gender equality," the Umno Pengerang MP tweeted.
The former minister included the hashtag "definitely not Doraemon voice" and "SDG Goal 5", the latter pointing to the UN's Sustainable Development Goal on gender equality.
Women's rights group Awam similarly chastised the ministry for its problematic messaging.
"Stop this sexist messaging and focus on domestic violence survivors who are at higher risk now!
"Women have more than enough to do during the MCO without the added pressure of putting on makeup and looking good. Women are human too - not an object or a commodity," the NGO tweeted.
Meanwhile, Titiwangsa MP Nik Nazmi Nik Ahmad questioned the ministry's priorities as the country grappled with the Covid-19 outbreak.
"Women and families are dealing with other challenges now.
"It could advise men on how to assist (with household chores) instead," he said.
The ministry's posts have since been flooded with critical comments from social media users, both on Instagram and Twitter. - Mkini