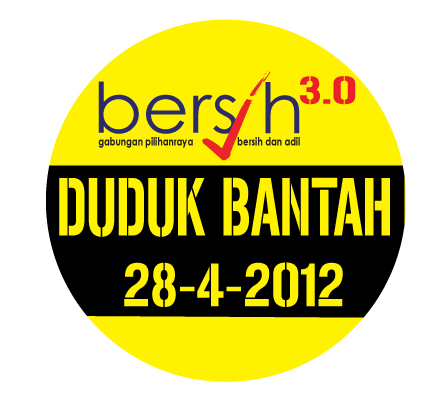 Gathering points:
Pasar Seni: start: 13:30
Masjid Negara : start: 13:30
Jalan Sultan : start: 13:30
Masjid India : start: 13:30
Brickfields, start: 12:30
KLCC - Himpunan Hijau, start: 12:00
Representatives from the civil society will walk with you from the gathering points to Dataran Merdeka. The Secretariat advises you to come as early as possible to Kuala Lumpur. If it is possible already tonight. If you travel/ walk alone, please do this for your own safety in a group.
Salam BERSIH!
Duduk Bantah 28April2012 2-4 pm
PANDUAN UNTUK PESERTA BERSIH
Maklumat yang diberikan ini hanya sekadar panduan kepada para peserta. Ia hanya mempunyai maklumat umum, dan tidak sepatutnya menafikan pandangan pakar perubatan yang merawat anda, atau pakar perubatan yang lain.
Segala risiko kesihatan yang mungkin berlaku semasa perhimpunan adalah atas tanggungjawab anda sendiri.

APA YANG PERLU DIPAKAI
Pakaian yang selesa untuk bergerak, termasuk alas kaki / kasut yang sesuai
Pakaian bersih (fresh clothes) di dalam beg – untuk ditukar sekiranya terkena bahan kimia
Baju hujan boleh juga dibawa dan digunakan untuk melindungi diri dari cecair kimia (sekiranya ada), termasuk pelindung kepala dan cermin mata keselamatan (shatter resistant eye protection)
APA YANG PERLU DIBAWA
Sila bawa air mineral / minuman secukupnya untuk diminum. Kami mencadangkan 2-3 botol air mineral / minuman 500 cc.
Sapu tangan bersaiz besar atau tuala kecil. Basahkan dan tutup mulut/ hidung dengannya sekiranya gas dilepaskan.
Makanan seperti bar coklat, energy snacks
Sekiranya anda mempunyai masalah kesihatan yang serius seperti masalah jantung dan paru-paru, kami menasihatkan anda untuk mengelakkan diri dari menghadiri perhimpunan ini.
Bagaimanapun, sekiranya anda mempunyai masalah kesihatan yang terkawal, dan tetap ingin menyertai perhimpunan ini, sila pastikan anda bawa ubat-ubatan preskripsi anda untuk bekalan sekurang-kurangnya 1 hari, termasuk alat inhaler untuk pesakit asma.
Topeng muka (surgical mask) boleh dibawa
Bawalah wang saku yang mencukupi untuk makanan, pengangkutan, telefon dan sebagainya sekadar perlu.
PERKARA YANG PERLU / DILARANG UNTUK DILAKUKAN
Rehat, makan dan minum secukupnya sebelum protes. Walaupun kita berniat untuk berhimpun secara aman, kita tidak dapat mengagak tindakbalas dari mereka yang cuba menghalang perhimpunan.
Sertailah perhimpunan secara berkumpulan dengan rakan / keluarga yang mengenali anda, dan mengetahui masalah kesihatan anda sekiranya ada. Jangan bergerak bersendirian.
Jangan pakai pelembap kulit berasaskan minyak kerana ia boleh mengakibatkan bahan kimia terperangkap lama.
Jangan pakai kanta pelekap (contact lenses) yang juga boleh memerangkap bahan kimia di mata.

PERLINDUNGAN DARIPADA GAS PEMEDIH MATA / BAHAN KIMIA
Tanda-tanda terkena bahan kimia :
Pedih di mata, hidung, mulut dan kulit
Pandangan kabur, dan air mata keluar berlebihan
Cecair hidung keluar secara berlebihan
Batuk dan sesak nafas
Pening
Walaubagaimanapun, tanda-tanda di atas hanya SEMENTARA.
Ketidakselesaan pada mata akibat gas pemedih mata akan hilang selepas 5-30 minit, manakala kesan 'pepper spray' memerlukan 20 minit – 2 jam
Bagaimana menghadapinya:
BERTENANG. Jangan panik. Ingat, ia hanya kesan sementara.
Hembus hidung, kumur mulut & elakkan daripada menelan.
"DO NOT RUB IT IN"
Sekiranya gas pemedih mata dilepaskan, cuba elak daripada mengikut arah angin.
Sila dapatkan bantuan sukarelawan 'MEDICAL TEAM' yang berada di sekitar kawasan perhimpunan dengan segera sekiranya anda memerlukan bantuan perubatan.
Sekiranya anda seorang pengamal perubatan, bantuan anda kepada yang memerlukan amat dihargai.