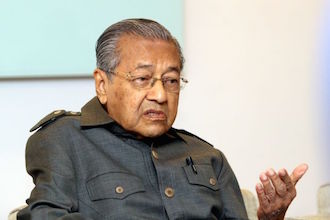 (MMO) – Former Prime Minister Tun Dr Mahathir Mohamad said it will only cost RM2 for a lifetime membership in his new party, Malay language dailySinar Harian reported.
The daily quoted him as saying so, while calling on Malay's to support the party as his former party Umno had "gone off track."
"Why do we want to establish a new party? Because the old party (Umno) that we established in the past have gone off track, because its driver is not good," he was quoted saying in a speech at an Aidilfitri open house hosted by Ayer Hitam assemblyman Datuk Seri Mukhriz Mahathir in his constituency.
"That is why this new party will be formed and it needs the support of all Malays because only this party will save us all," he added.
Earlier this month, Dr Mahathir confirmed that he will be a founding member of a new political party that will ally with Pakatan Harapan to ensure straight fights against the BN ruling coalition in the coming general elections.
Dr Mahathir had quit Umno in February this year, claiming that the party he once led now only functions to protect Prime Minister and Umno president Datuk Seri Najib Razak.