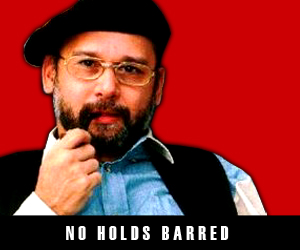 PDRM, MACC and the AG fixed up Ramli, the Director of the CCID, to cover up the RM8 billion loss in MAS and the IGP's link to the Chinese underworld crime syndicate. MAS lost RM8 billion because Mahathir wanted to cover the RM30 billion FOREX loses. When they charged Ramli on trumped-up charges, he engaged Rosli as his lawyer and they arrested and charged Rosli as well. Nine years on and finally Ramli and Rosli are receiving justice.
NO HOLDS BARRED
Raja Petra Kamarudin
If before this any of you may have had reservations about ex-Attorney-General (AG) Gani Patail's honesty, or in this case the lack of it, tomorrow Malaysians are going to find out the truth about this pariah. Gani Patail, and his partner-in-crime, ex-IGP Musa Hassan, are so evil that even hell may reject them for outdoing Satan himself. And from what I hear Gani does not really have that long to go unless he can fly to India to buy himself a kidney.
Was it not Anwar Ibrahim who accused Gani of fabricating evidence against him and of charging him on trumped up charges? Many international human rights groups, including the UK, the US and the Australian governments, plus the EU Parliament, also alleged the same thing and in 1999 labelled Anwar a political prisoner and a prisoner of conscience.
Today, however, Gani is the darling of the opposition and the most trusted man in Malaysia — merely because he collaborated with Tun Dr Mahathir Mohamad to try to bring down Prime Minister Najib Tun Razak in July 2015. Pakatan Harapan would even appoint Adolf Hitler as Malaysia's Bishop if he were still alive and had he joined Mahathir in the ANC (Anti-Najib Campaign).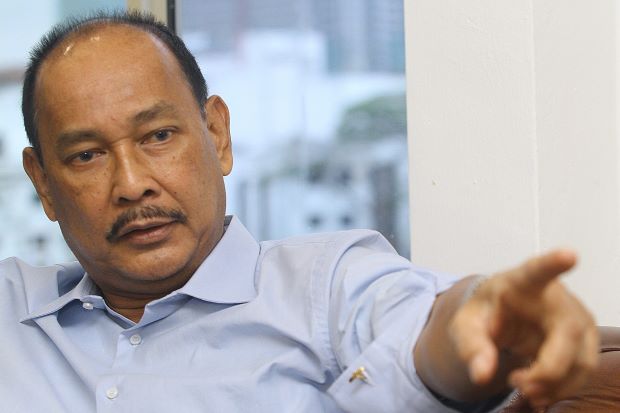 Ramli Yusuff: investigated MAS and discovered why it lost RM8 billion and that Mahathir was behind it
Anyway, tomorrow (Tuesday, 13th December 2016) the suit against the New Straits Times and Berita Harian will continue where we shall hear interesting testimonies from the ex-Director of the CCID, Ramli Yusuff, and Rosli Dahlan, his lawyer.
For those who may not have been following this case, these links may prove helpful:
There are many more items on the internet and all you need to do is to Google it and you will see hundreds of similar reports, even reports on how MAS lost billions.
Incidentally, just to digress a bit, Tajuddin Ramli, the ex-MAS Chairman, testified in court (in another suit between him and MAS: which Ramli Yusuff also investigated) that Mahathir instructed him to buy the MAS shares at RM8.00 per share. And the reason they did this was to show that the Malaysian government made a huge profit by selling the MAS shares to Tajuddin.
It was actually just a paper profit and this paper profit was meant to cover the RM30 billion losses the government made on playing the currency market. So the scenario was: Malaysia lost RM30 billion on FOREX but covered back this loss by selling MAS at RM8.00 per share. That later proved to be a scam and MAS actually suffered a loss of RM8 billion instead of the government making a profit of RM30 billion — and MAS is still losing money until today.
Prime Minister Abdullah Ahmad Badawi: received Ramli's report on the MAS scandal
This was one case that Ramli investigated and he sent a report to the then Prime Minister, Tun Abdullah Ahmad Badawi. Of course, this not only revealed the scam but also revealed that Mahathir had his hands in this whole thing and the MAS scam was to cover the RM30 billion FOREX loses. That was when they went for Ramli — and when Rosli stepped in to act as his lawyer they went for him as well.
That, basically, is what the case tomorrow is all about. In short, PDRM, MACC and the AG Chambers conspired to ruin Ramli and Rosli more than nine years ago back in 2007. Both NST and Berita Harianhave apologised to Ramli and have agreed to settle this case by paying an undisclosed sum as damages and tomorrow they are meeting in the judge's chambers to get this settled. They know if the case goes on then they are going to lose the case and would have to pay a huge sum of money.
In 2007, Malaysia Today reported this case. What happened was that MACC leaked the story to the mainstream media in a bid to vilify Ramli, then the Director of the Commercial Crime Investigations Department (CCID). They alleged that Ramli had taken bribes of up to RM27 million and the case became known as 'The RM27 million Cop'.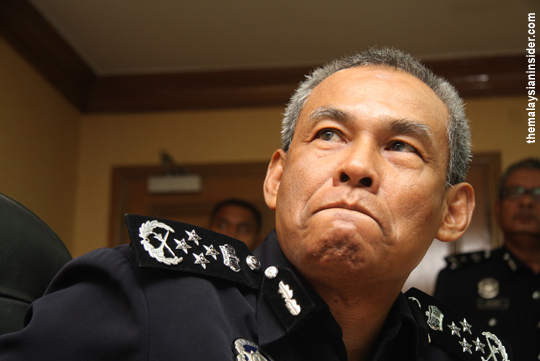 Musa Hassan, ex-IGP who was also head of the Chinese underworld crime syndicate
Other than the MAS case mentioned above, Ramli also investigating the then IGP Musa Hassan's links to the Chinese underworld crime syndicate involved in drugs, prostitution, loan sharking, and so on, plus his links to the Along syndicate run by Tengku Goh @ Goh Cheng Poh.
Ramli was suspended for the so-called RM27 million corruption case and the investigation against Musa Hassan was immediately closed. Other than the MACC, IGP and AG, people like the late Anthony Kevin Morais and several others were also involved. This was the same modus operandi as how they built up a case against Najib using fabricated evidence and trumped up allegations of corruption.
Ramli then sued all of them for conspiracy — including suing The Star, Utusan Malaysia, NST, Berita Harian and Sabah's Daily Express for defamation.
Kevin Morais tried to fix up Rosli Dahlan on trumped-up charges and fabricated evidence
Ramli's lawyer is Rosli so they also arrested him and fabricated charges against him as well. Rosli then sued all of them for RM50 million, which forced them to publish public apologies and pay him compensation. Utusan Malaysia even publicly apologised twice that it had defamed Rosli and had exceeded the parameters of ethical journalism, as did The Star. The MACC read out their apology to Rosli in open court and all paid undisclosed compensations. NST and MACC were found guilty by High Court Judge court Sharifah Khadijah Badjenid for conspiracy and defamation against Rosli and were ordered to pay compensation of RM300,000.
The fate of Ramli's and Rosli's detractors took a turn when Musa's contract as IGP was not extended and he turned and became a bitter critic of the government (so now Musa Hassan is also the darling of the opposition). Abu Kassim Mohamed, the then head of the MACC, is the same person who conspired with Gani and Mahathir to bring down Najib using the 1MDB issue. The MACC was practically in shambles when Dzulkifli Ahmad took over as the new MACC Chief Commissioner four months ago.
Meanwhile, that faggot Kevin Morais was murdered and buried in a drum full of cement by crooks whom he tried to cut rotten deals with. Now they are trying to blame Najib for that murder when Kevin was not involved in the 1MDB investigation but, in fact, had crossed some very shady characters.
In Ramli's defamation case, The Star, Utusan Malaysia and Sabah's Daily Express quietly paid damages and settled out of court. In a separate defamation suit, Musa had also apologised to Ramli in open court. Ramli's RM110 million suit for conspiracy against these defendants, including the Government of Malaysia, will take place next year.
Gani Patail paying his last respects to his running dog Kevin Morais