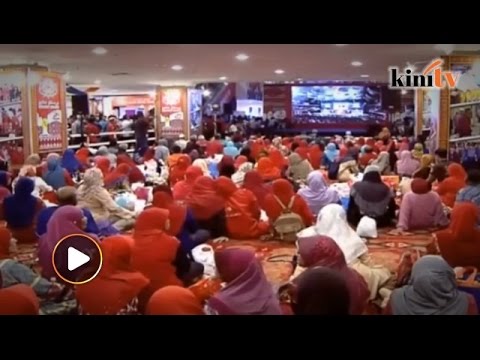 UMNO AGM
Umno president and Prime Minister Najib Abdul Razak stepped up his efforts to portray DAP as an enemy to Malays today by showing the controversial video where former DAP man Hew Kuan Yew was telling Sarawakians to let the "Malays screw the Malays".
Najib then screened a second video of Hew where he said "(Dr) Mahathir (Mohamad) kill Najib" in Cantonese figuratively.
The video quoted Hew as saying DAP is using Mahathir to end Najib's political career.
"Those one the other side are using each other... There's no need for me to say who is using who," Najib said prior to screening the videos.
Hew had made the offending remarks during the Sarawak state elections, in an effort to get voters to elect Malay DAP candidate Abdul Aziz Isa to the Batu Kitang state seat.
However Hew
defended
his remarks, saying he wouldn't ask Sarawakians to vote in a Malay representative if he was racist.
Najib had in his opening speech on Thursday painted DAP as anti-Islam and anti-Malay, claiming that Malay rights would be eroded should DAP come to power.
It had set the tone for the delegate debates, where many took shots at DAP as a chauvinist Chinese party.
Prior to Najib's speech, Umno Youth vice-chief Khairul Azwan Harun also made disparaging remarks about DAP.
Azwan had said that the Chinese people would be further alienated should they continue to support DAP.- Mkini