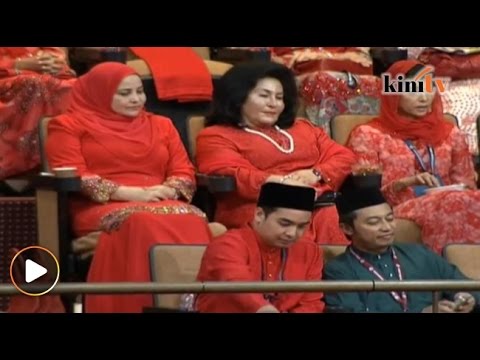 UMNO AGM
Umno president and Prime Minister Najib Abdul Razak has scoffed at allegations that he is involved in several high-profile murders, including that of Mongolian national Altantuya Shaariibuu.
"Every time there is murder, 'Oh Najib is involved'.
"Someone I didn't know, Altantuya, was also (my fault)... If I knew Altantuya my wife would have done something.
"The latest, even Kevin Morais they said I was involved. It had nothing to do (with me)," Najib told delegates at the close of the Umno general assembly today.
Najib has consistently denied involvement in the murder of Altantuya, which was linked to his associate Abdul Razak Baginda.
Morais, meanwhile, was a prosecutor teamed with the Malaysian Anti-Corruption Commission, who was murdered in September last year.
The premier also lashed out at those who spread rumours of his wife Rosmah Mansor's ring.
"Then they say that they're just joking. But as the whites say, the damage has been done," he said.
Rosmah had previously been alleged to have viewed a RM24 million diamond ring.
The prime minister's wife had dismissed the allegation as slander.
Najib also rubbished the scandal around 1MDB's debts, but did not touch on allegations that he pocketed money from the state investment firm.
Neither did he address the US Department of Justice (DOJ) 1MDB-linked lawsuits.
The DOJ claimed that an unnamed Malaysian Official 1 had received US$731 million allegedly stolen from 1MDB.
Najib has denied misappropriating public funds for personal gain.
The premier however did hit out at his former mentor Dr Mahathir Mohamad's constant taunting about him not suing the Wall Street Journal, which had reported extensively on the 1MDB scandal.
Najib pointed that Mahathir himself had not sued US author Barry Wain, who claimed that RM100 billion had been misappropriated during the Mahathir administration.
"Sue Wain. When it is me he tells me to sue (WSJ) but he doesn't sue, just keeps quiet," Najib said.- Mkini