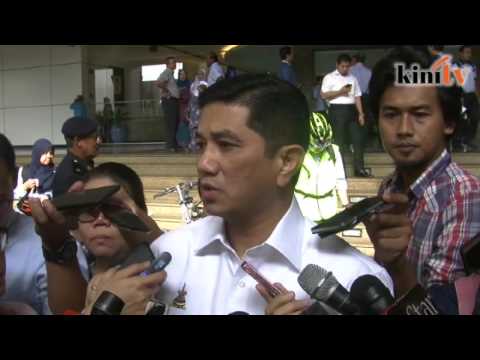 Selangor Menteri Besar Mohamed Azmin Ali has admitted the state had agreed with Tenaga Nasional Berhad (TNB) to delay maintenance works that would affect several water treatment plants in Hulu Selangor from the original September date.
The delay of the repairs till this week has caused an uproar as it will affect water supply in the Klang Valley just days before the Christmas season.
According to TNB today, the works were initially scheduled for Sept 27 but later
postponed
.
"There are reasons for the move, which was agreed upon between TNB and the state government," said Azmin.
"At that time, we wanted to complete works at Langat 2 and at the time it was also the school holidays, and there were students who were preparing for examinations.
"Therefore we felt it was best to delay it," he told reporters today after officiating an event at the Selangor state secretariat building, Shah Alam.
Azmin said presently the works could no longer be delayed as TNB said any possible breakdown would result in a down time up to a month.
The repairs would mean no power supply to the water treatment plants, hence a disruption in supply to the Klang Valley resulting in a water rationing plan this week.
The menteri besar however said the state would explore ways to ensure those preparing for Christmas celebrations on December 24 would not be inconvenienced.
"The state government's policy is not to trouble the people for too long a period (of down time), especially during a holiday and festive season such as Christmas.
"I do not want any works to disrupt the coming Christmas season," he said.
"We will discuss with TNB today to see how the works can be sped up and water supply to be restored as soon as possible, and not last until six days.
"There are technical issues to be resolved," he added.- Mkini