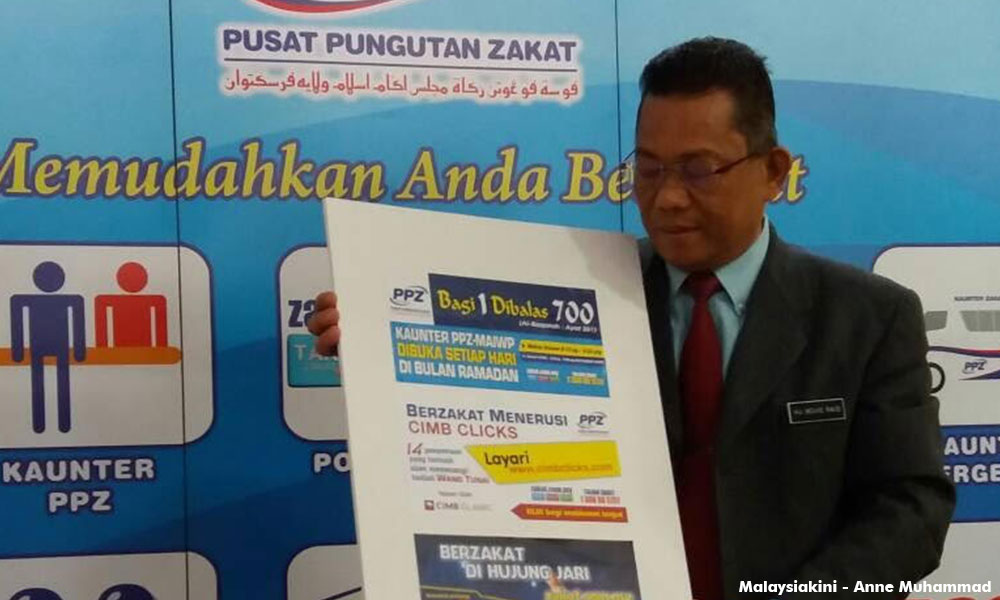 The Federal Territories Council's zakat (tithe) collection centre (PPZ) is offering goodies to encourage Muslims to pay their tithe early.
Its chief executive officer Mohd Rais Alias said those who pay their tithe through the CIMB Islamic's online banking service will stand a chance to win RM10,000.
He said the funds are sponsored by CIMB Islamic for 14 lucky winners.
The first 20 people who pay their tithe using (PPZ)'s online portal will also win RM250 each, he said.
"The objective of this campaign is to encourage the public to fulfill their tithe obligations using the facilities provided, wherever they may be," he told reporters in Kuala Lumpur today.
He said the first 10,000 people who pay their tithes via PPZ's mobile counters will also receive the special edition book "Ramadan Menyinari Harta dan Jiwa" authored by Federal Territories mufti Zulkifli Mohamad Al-Bakri.
The counters are open every day during the month of Ramadan to assist Muslims to fulfill their tithe obligations.
PPZ counters will also be opened at Urban Transformation Centres from 8.15am to 5pm, he said.
Muslims are obliged to pay a special tithe (zakat fitrah) of RM7 each in the month of Ramadan. They must also pay 2.5 percent of their savings every year.
In Malaysia, tithe payments are tax deductible.
Tithe collection can only be redistributed to any of the seven categories of recipients, referred to as "asnaf". They are:
- The destitute, defined as those who do not have material possessions or means of livelihood to sustain their basic needs;
- The poor, that is those who only have enough to sustain their basic needs;
- Those appointed to collect the tithe, to offset the collection costs;
- Those who have newly-embraced Islam;
- Those who are freeing themselves from bondage or slavery;
- Those who are in debt and need help meeting their basic needs; and
- Those working towards Allah's cause for the betterment of community.- Mkini