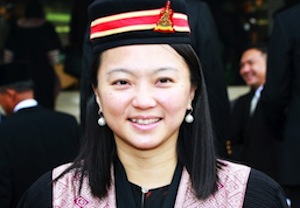 Dr Kamarul Zaman Yusoff
Tertera di mana-mana sahaja dalam pernyataan dan ucapan DAP peri pentingnya prinsip sekularisme dalam perjuangan politik DAP. Kononnya, bagi DAP, Malaysia adalah sebuah negara sekular yang perlu kekal sebagai sebuah negara sekular. Kononnya urusan politik perlu dipisahkan daripada urusan agama. Kononnya pihak yang mahu mencampurkan urusan politik dengan urusan agama, sama ada PAS atau UMNO, perlu ditentang habis-habisan.
Bagaimanapun, sedarkah kita bahawa tatkala DAP melaung-laungkan supaya urusan politik dipisahkan daripada urusan agama, pemimpin DAP sendiri sebenarnya sangat giat mencampurkan urusan politik dengan urusan agama? Dan sebuah buku tulisan Speaker Dewan Undangan Negeri Selangor merangkap Ahli Dewan Undangan Negeri Subang Jaya, Hannah Yeoh, bertajuk "Becoming Hannah" ("Menjadi Hannah") adalah salah satu bukti nyata mengenainya.
Di dalam buku ini, Hannah Yeoh secara terbuka mengakui bagaimana penglibatan beliau di dalam bidang politik dibantu oleh pihak Kristian, baik dari segi dana mahupun kempen, bagaimana beliau menggunakan kedudukan politik beliau untuk berdakwah mengenai agama Kristian dan sebagainya. Lebih dari itu, beliau juga menyeru ahli-ahli Felo Kristian Seberang Laut khususnya dan penganut agama Kristian umumnya untuk mengikut jejak langkah beliau menceburkan diri dalam bidang politik untuk membina semula Malaysia mengikut acuan agama Kristian.
Jelas berdasarkan kepada segala pengakuan terbuka Hannah Yeoh ini maka peri pentingnya prinsip sekularisme dalam perjuangan politik DAP adalah satu hipokrasi semata-mata. Sebaliknya, gambaran yang diberikan melalui buku ini adalah bahawa, bagi DAP, pemisahan urusan politik daripada urusan agama ini hanya perlu dibuat jika urusan agama ini adalah urusan agama Islam, tetapi jika urusan agama ini adalah urusan agama lain seperti Kristian maka tidak mengapa.
Disertakan di sini beberapa petikan tulisan Hannah Yeoh di dalam buku beliau yang bukan sahaja diendorse oleh Senior Pastor, DUMC, Petaling Jaya, Dr Daniel Ho, Senior Pastor, Skyline SIB, Kota Kinabalu, Dr Philip Lyn, dan Ahli Parlimen Petaling Jaya Utara, Tony Pua, tetapi yang turut diendorse juga oleh Ahli Parlimen Pandan, Rafizi Ramli, dan Ahli Dewan Undangan Negeri Hulu Kelang, Saari Sungib.
MUKA SURAT 23
This is why, today, when I am asked to describe who I am and what I do, I say, "Hannah Yeoh, lives for God."
Terjemahan: Inilah sebab mengapa, hari ini, bila saya diminta untuk menerangkan siapa saya dan apa saya buat, saya berkata, "Hannah Yeoh, hidup untuk Tuhan."
MUKA SURAT 89
I do not measure my self-worth as a politician by votes or by how popular I am with constituents. I measure my self-worth by the fact that I am a child of God.
Terjemahan: Saya tidak mengukur harga diri saya sebagai seorang ahli politik dengan undi atau dengan populariti saya di kalangan pengundi. Saya mengukur harga diri saya dengan fakta bahawa saya adalah seorang anak Tuhan.
MUKA SURAT 108
I also felt that politics took me away from my true longing, which was to be a preacher. But had I not obeyed God's call, I would not have had the opportunity to preach at churches, to world leaders and to young people, like I am able to do now. God knew the desire of my heart to preach and serve Him. And He made it happen through my political office.
Terjemahan: Saya juga merasakan bahawa politik membawa saya jauh dari impian sebenar saya, iaitu untuk menjadi seorang pendakwah. Tetapi jika saya tidak mematuhi panggilan Tuhan, saya tidak akan mempunyai peluang untuk berdakwah di gereja-gereja, kepada pemimpin-pemimpin dunia dan kepada orang-orang muda, seperti apa yang saya mampu buat sekarang. Tuhan tahu hasrat hati saya untuk berdakwah dan berkhidmat kepada-Nya. Dan Dia membuat ia berlaku melalui jawatan politik saya.
MUKA SURAT 110
It is here that I want to specially address the OCFers (Overseas Christian Fellowship), wherever you are now, to never forget the mission of being trained and equipped and returning home to serve… We want to encourage fellow OCFers to come home. There is much work to be done to rebuild this beautiful nation. Just like Nehemiah overseeing the reconstruction of Jerusalem's walls, everyone has to be at it, working. God wants to reclaim politics and public service in Malaysia for righteousness' sake. He is looking for God-fearing men and women who are willing to roll up their sleeves and labour in this very demanding field. No experience in politics? Remember, I had none. No finances? I had none. Not a good time yet? I just got married when I ran my first campaign. He uses very ordinary vessels to do extraordinary things. He does this so His Name is glorified.
Terjemahan: Di sini saya ingin bercakap secara khusus kepada ahli-ahli Felo Kristian Seberang Laut, di mana saja kamu berada sekarang, untuk tidak lupa misi dilatih dan dilengkap dan pulang untuk berkhidmat… Kami ingin menggalakkan kawan-kawan Felo Kristian Seberang Laut untuk pulang. Terdapat banyak kerja perlu dibuat untuk membina semula negara yang indah ini. Seperti Nehemiah mengawasi pembinaan semula tembok-tembok Jerusalem, setiap orang perlu terlibat, bekerja. Tuhan mahu menuntut semula politik dan perkhidmatan awam di Malaysia demi untuk membetulkannya. Dia sedang mencari lelaki dan wanita bertaqwa yang sanggup menggulung lengan baju mereka dan bekerja dalam bidang yang sangat mencabar ini. Tiada pengalaman dalam politik? Ingat, saya tidak ada pengalaman. Tiada wang? Ingat, saya tidak ada wang. Masa sesuai belum tiba? Saya baru berkahwin bila saya pertama kali berkempen. Dia menggunakan saluran-saluran sangat biasa untuk membuat perkara-perkara luar biasa. Dia membuatnya supaya Nama-Nya diagungkan.