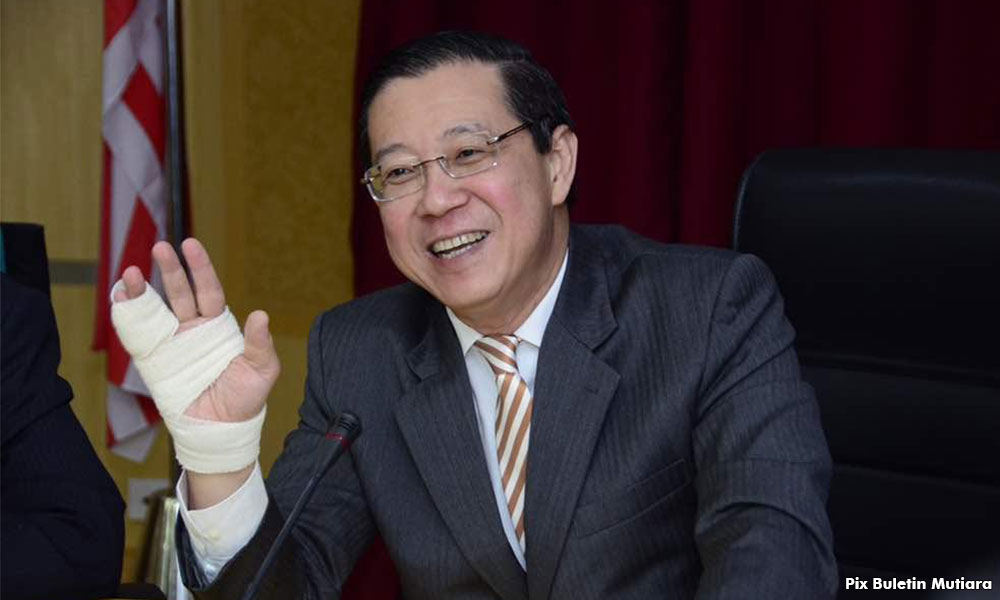 Chief Minister Lim Guan Eng's heavily bandaged right hand piqued the curiosity of reporters in Komtar today, where he held a press conference to announce a new development plan - Global Business Services by The Sea - to be undertaken by the Penang Development Corporation.
However, Lim quickly dismissed the injury as "wear and tear" of his little finger due to "too many handshakes".
He went for surgery for the torn ligament yesterday, saying that the condition was due to his age. He is 57 this year.
He had to have it heavily wrapped-up to provide "structural support" for the other fingers, Lim added.
"I hope you understand if I shake hands, I would have to do it with my left hand."
Asked if this would mean a Boy Scout's handshake, Lim replied: "Is it? Thank you for telling me".
"So I guess shaking hands is not possible unless I do a Boy Scout's handshake".
The Boy Scout's handshake, made with the hand nearest to the heart, symbolising a token of friendship, is popularly used around the world as a formal way of greetings between scout members.
Asked if the bandage was due to him banging the table, he laughed, saying "I have not talked to any assemblyperson who did not attend the governor's swearing-in ceremony".
"I have not spoken to any one of them yet, so it has nothing to do with that please," Lim added.
He was referring to the state elected representatives who failed to attend Governor Abdul Rahman Abbas' swearing in
ceremony
, where the latter was sworn-in for his seventh term on April 29.
Lim announced today that those who were absent from the ceremony without a valid reason would be penalised as they must show respect to the governor who holds the highest position in the state.
They would have to face Lim, to clarify the reasons for their absence, and to present their plans for their constituencies in detail before obtaining their outright allocation of RM50,000 for the third quarter of this year.
The amount is part of the RM200,000 allocation given to assemblypersons to develop their constituencies, on top of RM300,000 which is disbursed annually to them.
Lim said the move to penalise the assemblypersons was merely a "light rap on their wrists", as the allocation will not be blocked or withdrawn from their constituencies.
He also ticked-off PKR Penanti assemblyperson Norlela Ariffin for lamenting on social media that her allocations may be blocked or withdrawn due to her absence at the governor's do.
Norlela's post, which was uploaded on Facebook on May 14, has since been taken down.- Mkini