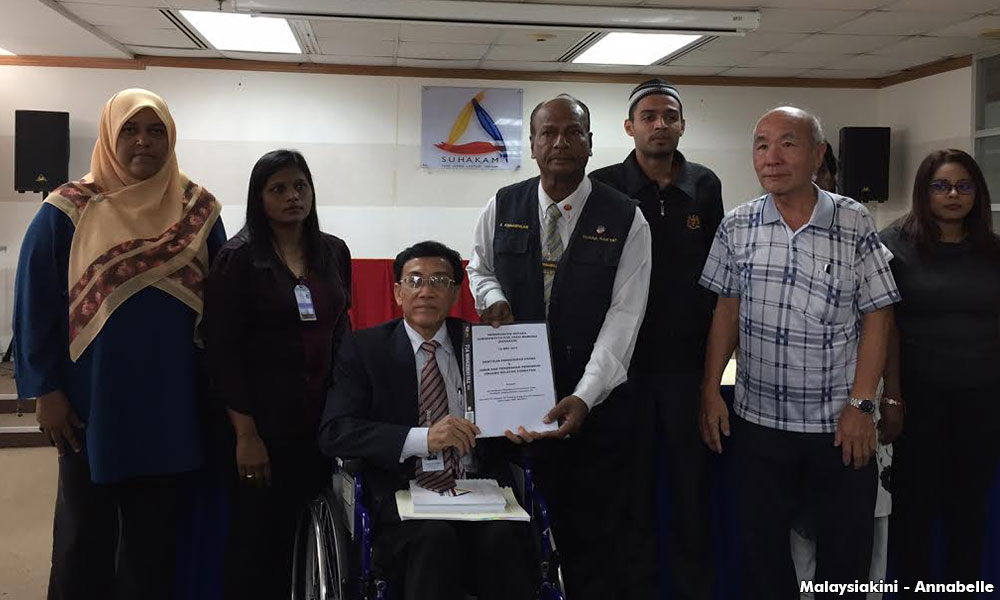 Residents from Jinjang Selatan Tambahan have called upon the Human Rights Commission of Malaysia (Suhakam) to stop Kuala Lumpur City Hall (DBKL) from evicting them.
More than 500 residents living in 107 houses located within a 69-hectare plot of land, gazetted to be redeveloped by DBKL together with Zil Land Sdn Bhd, have been instructed to leave by May 18.
S Arutchelvam of Parti Sosialis Malaysia, who began representing the residents last month, presented their case before Suhakam this morning.
"Suhakam's own position on eviction is that alternative houses need to be built before evicting (existing) residents.
"So we urge Suhakam to get DBKL to stop the May 18 eviction, and get them to have a dialogue session where all stakeholders are present," said Arutchelvam to Suhakam commissioner Francis Johen Anak Adam and Suhakam officer Helmi Fendy Mohammad Idris, before presenting them with a memorandum.
Jinjang Selatan Tambahan village head A Ponnampalam added that DBKL had yet to meet with residents to discuss terms even though the redevelopment had been confirmed four years ago.
Upon accepting the memorandum, Francis Johen said Suhakam officers would study the matter in detail before making recommendations to DBKL.
Second eviction notice in two months
The
first eviction notice
, issued in March with an April 15 deadline, was not enforced after residents petitioned Kuala Lumpur Mayor Mohd Amin Nordin Abdul Aziz to withdraw the notices and ensure that new homes would be built.
On April 18, DBKL issued residents a second eviction notice under Section 72 of the Street, Building and Drainage Act 1974, which allows local authorities to demolish and remove 'unauthorised buildings'.
Residents claim they have had Temporary Occupancy Licences (TOL) for their homes since 1969, and thus are not squatters.
Resident Ameer Khan Barghathalli added that residents had little confidence in Zil Land, the co-developer of the project.
"We found out that this developer has never even developed anything before, and the phase-one houses have not been built after the original residents there were evicted," he said.
Thirty houses in a neighbouring plot of land were demolished by force last August to make way for the first phase of the redevelopment.
Arutchelvam said Jinjang Selatan Tambahan residents were worried the same fate would befall them.
"The fear of this community is if they move out, the houses (promised to them) won't be built," he said.- Mkini