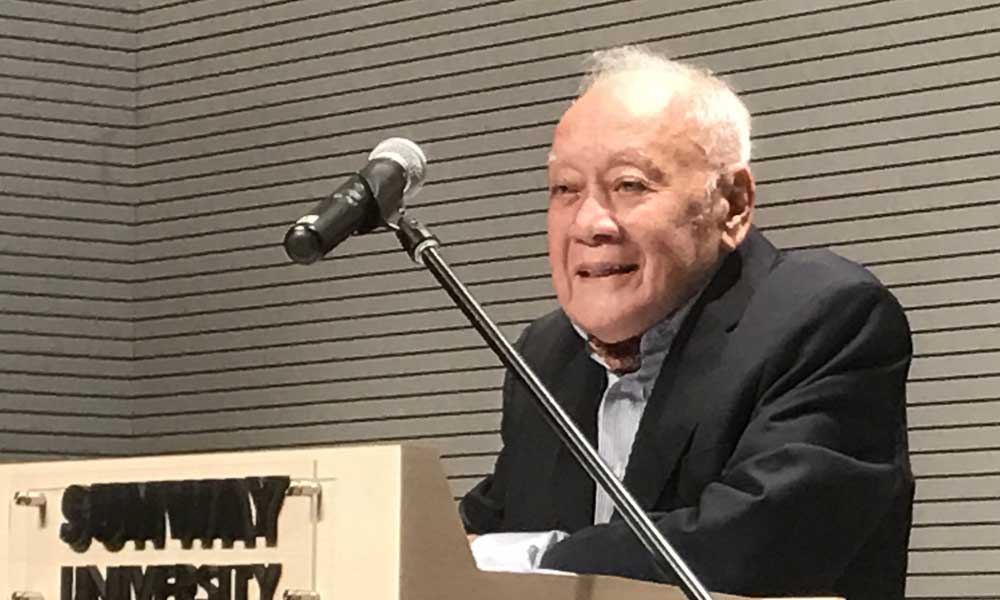 Former Bank Negara Malaysia deputy governor Arshad Ayub said that Malaysia is still a "success story" despite its various failures or scandals.
Though the Bumiputera Malaysia Finance (BMF), forex and 1MDB scandals are still on people's minds, he said we must acknowledge that those who have led the country over the years have done well.
"In spite of all this (scandals), we must take off our hat to whom we must credit, those who ran the country over the years, we must be grateful to them.
"Malaysia is a success story," Arshad said during the launch of a book titled 'Rich Malaysia, Poor Malaysians' by Anas Alam Faizli, in Subang Jaya last night.
Arshad, who will turn 89 years old this year, reflected on his own life experiences and pointed out that back in the 1970s, Malaysia only had farmers and rubber tappers, but now the country has produced many professionals.
There are also more schools and universities now, compared to when he was a boy, he said, adding that there are 21 public universities and about 50 private universities in Malaysia now.
"I think I must say, I myself presently feel we are definitely richer than we were before independence.
"Of course, some people will not accept it, but those days there were only six or seven million Malaysians, but today we have almost 32 million," he said.
However, he noted that the first priority to tackle now is the issue of corruption, which dominates the news.
This will move the country towards becoming more productive and socially advanced, he said.
The country must also acknowledge that there is a widening income and wealth disparity and work to ensure that the wealth is distributed fairly instead, he said.
"(So that) Malaysian citizens can taste the fruit of our country's success," he said.
Arshad also said that the trickle-down economy has been proven not to work, and that the government needs to come up with the right economic policy and approach to solve fundamental economic issues in the country.
Despite that, he said Malaysia still cannot be regarded as a poor nation overall.
He is, however, troubled by the taxation rate, and suggested that the corporate tax be raised while the individual income tax rates be lowered.
"I think maybe we can afford again to have a higher taxation rate (for corporate tax) but everybody will be very annoyed," he said.
The individual income tax rate for 2017 is a minimum of one percent and 28 percent.
Meanwhile, the corporate income tax rate for 2017 is between 19 percent and 24 percent.
The book 'Rich Malaysia, Poor Malaysians' by Anas was first published in 2014 and this launch is for a newer, updated version of it.
'More hardships than before'
Anas, who is a professional in the oil and gas industry, said during the launch that the country is in a state of depression and its people are facing more hardships than before.
There is also the issue of politics of race and hate polarising the country further, he said, and this must stop.
"How it happened is no longer relevant. What do we do now, is a more important question," he said.
He said his book outlines a number of steps to tackle the issues plaguing the country.
Among them are the empowerment of women, preserving the environment without sacrificing economic benefits and addressing the issue of foreign workers in Malaysia.
He aims to bring public awareness that it is possible to solve the problems the country is facing through his book, he said.- Mkini