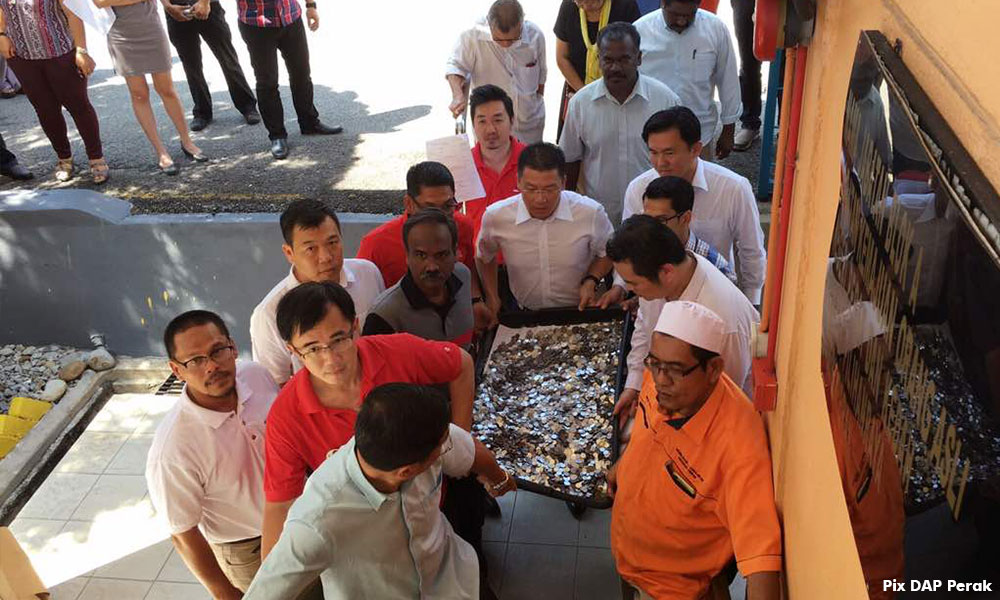 Perak DAP has lodged their objections against 129 dubious voters in the draft supplementary electoral roll today, and paid RM1,290 deposit in coins.
Its chairperson Nga Kor Ming said the move is a sign of protest against the Election Commission's (EC) refusal to sell soft copies of the drafts on public display to political parties.
Perak DAP had previously resorted to hauling a photocopy machine and generator to the public display area to photocopy the draft supplementary electoral rolls, but Nga said this was not enough.
"We even had to bring our own generator as the EC also refused to provide us with electricity. Our members worked day and night to photocopy yet we couldn't finish photocopying the complete electoral roll," he said today, condemning the EC's decision as unreasonable and done in bad faith.
The EC had previously said that the public display process alone is adequate for stakeholders to inspect the draft supplementary electoral roll, hence it has stopped selling copies to political parties and others.
Nga said RM10-per-voter deposit for objection filed today at the EC's office in Ipoh was paid in 20 bags of coins, totalling 20,000 coins.
He said two DAP members were also dressed in a ghost costume "as a sign of protest against dirty political tactics to hijack the nation's democracy".
As for the objections, he said Perak DAP had identified several hundred voters who were shifted into the Hutan Melintang state constituency yesterday, despite the hurdles set up by the EC.
As for DAP, he said DAP had identified another 142 who were purportedly phantom voters - 99 from Kamunting, 25 from Pokok Assam, and 18 from Keranji.
He noted that Kamunting state constituency and the Kampar parliamentary constituency (which encompasses Keranji) are both marginal seats, where the winning majority had a margin of less than five percent of total votes.
He also urged Perak voters to check the latest draft supplementary electoral roll at their nearest local council or post office.
He said if their address is found to be registered by an unknown person, they should contact a local DAP representative who could help them file an objection and lodge a police report.
The current public display is for the 2017 first quarter draft supplementary electoral roll. According to the EC, it comprises 242,691 new registrations, and 84,214 applications for address changes.
The public display period runs from May 9 until May 22, and objections can only be filed during the period.- Mkini