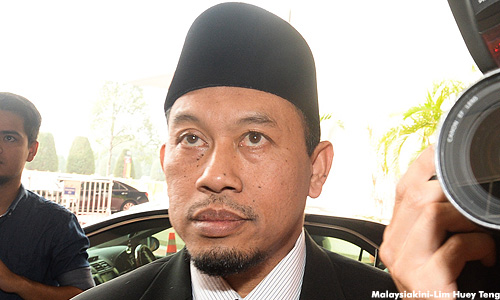 PAS exco members in the Selangor government will remain in their respective positions but will not have a political relationship with PKR, according to state PAS commissioner Sallehen Mukhyi.
"We agree to follow the decision made by the syura council that there will be no longer be political cooperation between Selangor PAS and PKR.
"As for the state government, PAS will remain in the state government because the state government is tasked with looking after the problems of the people.
"Since the existing state government was constructed on the mandate of voters in the last general election, PAS, PKR and DAP agreed to remain in the state government," he told Malaysiakini.
However, he said PAS representatives in Selangor would not partake in political discussions with Pakatan Harapan parties such as on matters related to the general election, including seat allocation.
"Discussions (cooperation) are only related to the state government.
"This will end when the state assembly is dissolved unless the menteri besar does not want (PAS excos to be in the state government), he can bring this matter to the sultan," he added.
Earlier this afternoon, the syura council upheld the PAS muktamar's decision to end ties with PKR.
However, the council's secretary Nik Zawawi Salleh said the decision regarding the excos in Selangor would be left to the central working committee.
PAS has three excos in the state government - Iskandar Abdul Samad, Zaidy Abdul Talib, and Ahmad Yunus Hairi.
Following the PAS muktamar's decision to end ties with PKR, speculation had been rife with regard to the status of the Selangor government.
Even Prime Minister Najib Abdul Razak had claimed that the state - which has been under opposition control since the 2008 general election - is suffering from political instability.
However, Selangor menteri besar and PKR deputy president Mohamed Azmin Ali
dismissed
this.- Mkini