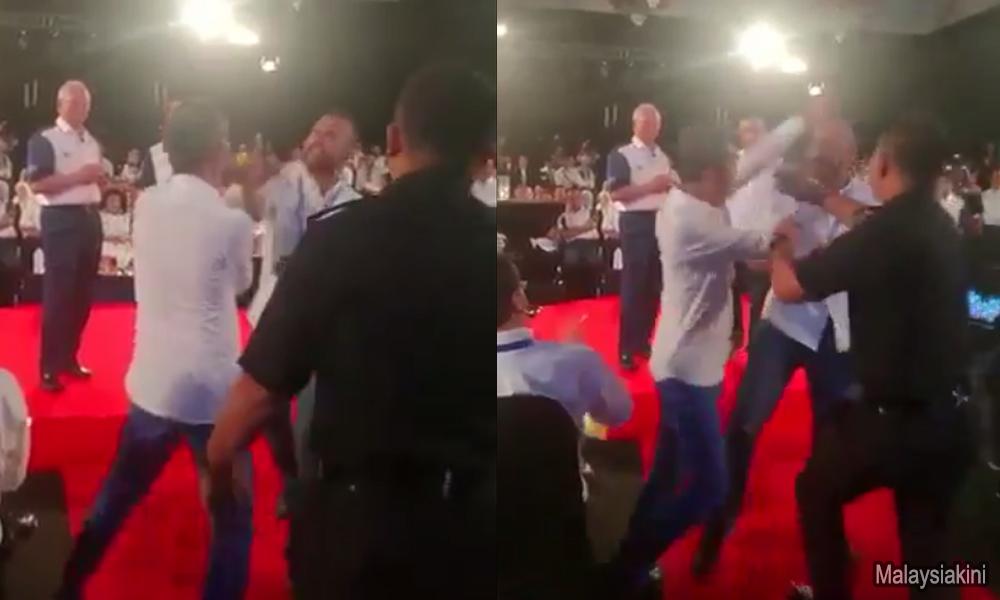 Its two days since the incident, witness live by Malaysians while it happened in front of our PM Najib Tun Razak and seen by police personnel at the venue site and yet NO ARREST have been made against the Assaulter,

Mat Over or his real name is Sulaiman Yassin

by the Police until now.
Assault
. is defined ... An
assault
is carried out by a threat of bodily harm coupled with an apparent, present ability to cause the harm. It is both a
crime
and a tort and, therefore, may result in either
criminal
or civil liability. Generally, the common
law definition
is the same in
criminal
and Tort
Law
.
The assaulter has, in full view of TV cameras, committed criminal offences for which he can be charged under Sections 351 and 321 of the Penal Code. These offences are respectively, assault and voluntarily causing hurt.
In whatever circumstances, the Assaulter should be arrested immediately and charged in Court.
Below are instances where for possession of items deem as "unlawful", the accused was immediately arrested and charged.
Tuesday, 01 September 2015
A 35-year-old dancer/performer was arrested by the auxiliary police after she allegedly dropped seven yellow Bersih balloons on Prime Minister Datuk Seri Najib Razak and his wife, Datin Seri Rosmah Mansor, when they were attending the DiverseCity International Arts festival opening ceremony on the ground floor of the Pavilion mall.
The balloons that were released had the words "democracy", "free media" and "justice" printed on them were believed to have been dropped from Level 5 of the mall.
The premier and his wife however did not react to the situation.
The woman identified as Bilqis Hijjas, who is the daughter of prominent architect Hijjas Kasturi, was detained and investigated by the Dang Wangi police.
Dang Wangi OCPD Asst Comm Zainol Samah confirmed the incident to a local daily, saying that police were still investigating on the matter.
"It is too early to reveal anything. We are investigating," he said yesterday.
According to an online portal, Bilqis' statement was recorded and her fingerprints were taken, and she was later released.
Bilqis might face charges under Section 504 of the Penal Code for intentional insult with intent to provoke a breach of the peace or another offence, and if found guilty can be jailed for up to two years, or fined, or both.-dpa
In Malacca, police seize 12 for wearing 'illegal' Bersih 4 tees
August 30, 2015
KUALA LUMPUR, Aug 30 — Police arrested 12 persons in Malacca last night for wearing the yellow Bersih 4 T-shirt deemed illegal by the government, state police chief Datuk Chuah Ghee Lye said today.
When contacted, Chuah also said the Bersih 4 shirts were not allowed under the Printing Presses and Publication Act (PPPA) 1984, referring to a government order declaring them as illegal.
"It's only 12. They were wearing the Bersih T-shirt," he told Malay Mail Online when asked to clarify claims on social media that 25 had been nabbed over the T-shirts.
He said the 12 were all released on police bail last night after they were picked up and had their statements recorded.
He confirmed that their shirts with the Bersih 4 logo were seized.
On Friday, the government gazetted a Thursday order by the Home Ministry, banning all items related to the Bersih 4 mass demonstration, including its promotional materials and any item of clothing bearing the rally's name as well as its signature yellow.
The order, issued by Home Minister Datuk Seri Ahmad Zahid Hamidi within his powers under Section 7(1) of the PPPA, stipulates that: "The printing, importation, production, reproduction, publishing, sale, issue, circulation, distribution or possession of the publication described in the Schedule which is likely to be prejudicial to public order, likely to be prejudicial to security, likely to be contrary to any law and likely to be prejudicial to national interest are absolutely prohibited throughout Malaysia".
Under the schedule, the ministry listed "any yellow coloured clothing and which contains the words "Bersih 4" and "any other printed material and pamphlet which leads to Bersih 4 rally" as the two types of "publications" banned.
No reports of arrests were made of the thousands who showed up in the national capital for wearing the Bersih 4 shirt, but the Bersih Urgent Arrest team claimed last night that 25 in Malacca and one in Nilai were arrested over the shirt.
The team of volunteer lawyers under the Bersih 4 rally organiser also said that a bus of around 30 persons heading for Kuala Lumpur to join the gathering were stopped by police at Bentong and ordered to head home.
The Bersih 4 rally which kicked off yesterday afternoon is expected to run for 34 hours and end at midnight today. It will be held simultaneously in Kuala Lumpur with similar rallies in Kota Kinabalu in Sabah, Kuching in Sarawak and elsewhere across the globe.
Bersih 4's five demands are: clean elections; clean government; right to dissent; strengthening parliamentary democracy and saving the economy.
-malaymail
Let us hope that JUSTICE will prevail and
the rule of law must be upheld
.