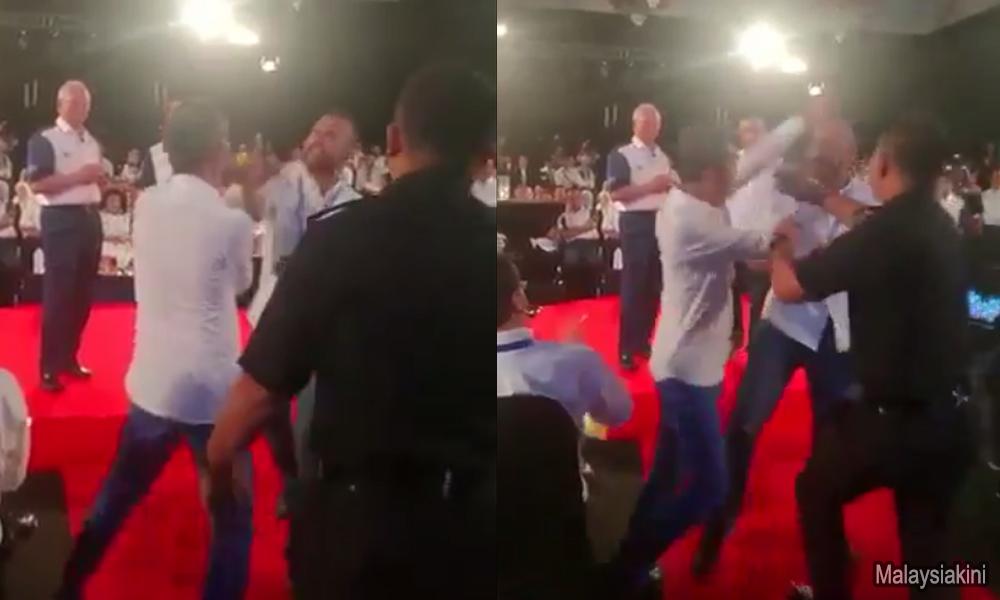 I did not say anything about the slapping because it was too stupid. It could be deemed as racist, a Chinaman being uncouth, but at the wrong place and wrong time. (Well you should not be uncouth at any place and at any time). Then a Malay hero (a comedian??) led by his 'mempertahankan-maruah-Melayu' finger pointed like a dagger walks up and slaps the Chinaman.
Meanwhile Moron just stands there like an idiot not knowing what to do. Did you notice Hippo seated in the background? Watching the whole thing like a TV drama. Then everything goes on as usual.
Imagine the Japanese prison guards who beat up Major Nicholson cheering when he was released from "the oven" in 'The Bridge Over The River Kwai' (it did not happen that way).
A friend sent this to me :
"An unprecedented incident happening right in front of the man who is generally understood to be the CEO of Euthanasia. This is reflective of the level of respect of the general public towards him. It has never happened before in our more than half of a century of history"
And now the clowning around begins. Here is the news :
Film producer baffled several NGOs pressuring him to apologise for slapping
"What a weird world. Someone slapped me, but I have to apologise ..?"
incident at dialogue for entertainment industry attended by Moron
a scuffle broke out
criticised moderator for overlooking those seated at the back
rubbished claims that he was hired to disrupt event, saying this was untrue
My comments : I have no more.