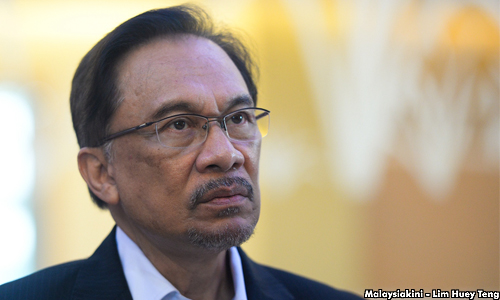 The Court of Appeal today unanimously dismissed former opposition leader Anwar Ibrahim's appeal to seek a declaration that he had been qualified to vote in the Permatang Pauh by-election in 2015, and would be similarly qualified in all future elections despite serving a jail sentence.
A three-member bench led by Justice Umi Kalthum Abdul Majid said the decision of the High Court, which had rejected Anwar's application for judicial review, was affirmed.
"The appeal is dismissed with costs," she said in awarding costs of RM5,000 to be paid by Anwar to the Election Commission (EC).
No grounds were given by the bench in reaching the decision.
The other judges were Justice Vernon Ong and Justice Hasnah Mohamed Hashim.
Anwar lamented to reporters after the decision about the submissions, which had seemingly been heading in his favour.
"You see the bench seemed to be headed in our direction but when they came out, the decision runs the opposite. I have instructed my lawyers to file an appeal at the Federal Court," he said.
Anwar had filed a judicial review application in which he named the EC, its former chairperson Abdul Aziz Yusof, and the government as the respondents.
He sought from the court a declaration, under Article 119 of the Federal Constitution, that he be allowed to vote.
The PKR de facto leader, who is serving a five-year jail sentence for Sodomy II, filed the suit after Abdul Aziz ruled that Anwar could not vote in the Permatang Pauh by-election, the seat for which he was the previous elected representative.
It was previously reported that Justice Nor Bee Ariffin had
dismissed
Anwar's application on July 15, last year.
Anwar's lawyer and former Federal Court judge Gopal Sri Ram said it was wrong for Abdul Aziz to deny his client the opportunity to exercise his constitutional right to vote.
"Our client asked for a declaration that he is a qualified person to vote but the EC said that because he is a prisoner, he has lost the right to vote. (This) is wrong. The court could grant the declaratory relief sought," he said.
Besides Sri Ram, Anwar was represented by N Surendran, Latheefa Koya, Shahid Adli Kamarudin and David Yi.
Meanwhile, senior federal counsel Amarjeet Singh said that it was not the EC itself which prohibited Anwar from voting, as it recognised that he is an elector.
He cited as precedent the Federal Court's ruling in the Yazid Sufaat case, which stated that a person detained under the Internal Security Act was not allowed to vote.
Amarjeet appeared with senior federal counsels Suzana Atan and Azizan Md Arshad.- Mkini