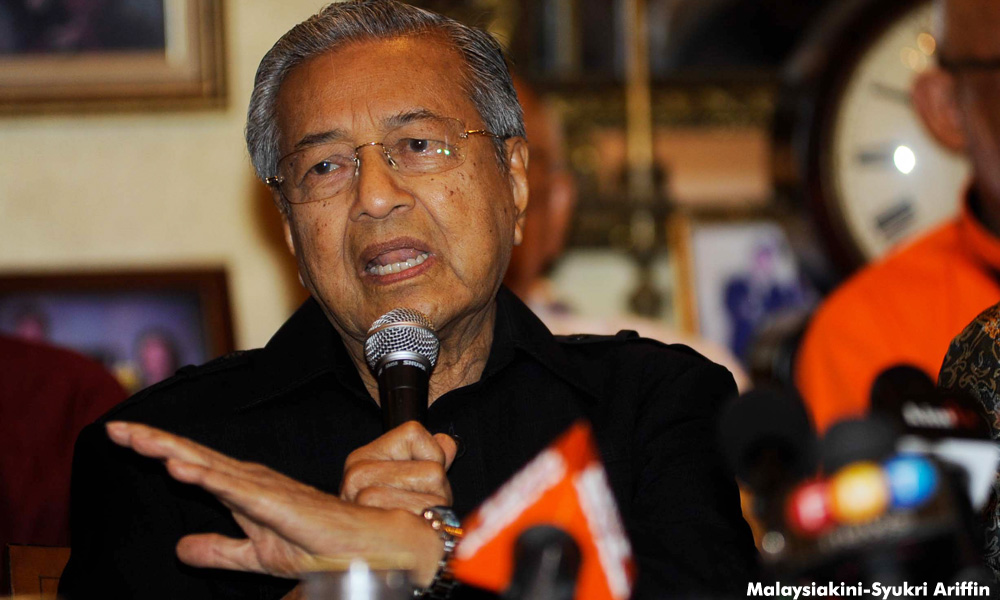 Dr Mahathir Mohamad appears to be warming up to the idea of becoming prime minister once again.
Speaking to the Nikkei Asian Review, Mahathir said this could be the case, although only for "a short while".
"If there is no candidate...I might try, only on condition that everybody agrees," the Parti Pribumi Bersatu Malaysia chairperson was quoted as saying.
However he stressed that his main goal is to help the opposition win the next general election.
This is the second time Mahathir has expressed such views.
In a Facebook Live session last week, Mahathir
admitted
he might be forced to consider becoming prime minister again if Pakatan Harapan has such a plan for him in the coming general election.
"I cannot ignore my friends in the Harapan coalition. If they have such a plan and it is agreed upon, I may be forced to consider," he said.
Prior to this, the country's longest-serving prime minister had repeatedly stressed that he did not even want to contest in the next general election.
Despite his reluctance, there continues to be calls for him to take up the premiership again, with a
Malaysiakini
poll
seeing a majority in favour of such a move.
A poll by PKR-linked election think-tank Invoke also saw Mahathir come out as the second most popular Harapan choice for prime minister after Anwar Ibrahim.
Harapan leaders have been reluctant to comment on the possibility of making Mahathir premier again.
Bersatu's partners in Harapan want Anwar to take up the job.
However the PKR de facto leader is currently behind bars.
Meanwhile, on why he was able to stay in office for 22 years, Mahathir said it was because he did not abuse his power.
"I was powerful, but I didn't abuse my powers. That is why I was re-elected five times," he said.
However in comparison, Mahathir said his nemesis Prime Minister Najib Abdul Razak had become "too powerful".
Mahathir has accused Najib of corruption and misusing public funds - charges that the premier denies.
The Nikkei Asian Review article on Mahathir comes a day after the nonagenarian posted on Facebook about him meeting Japanese Prime Minister Shinzo Abe.
"I was invited to share my thoughts on the future of Asia.
"Alhamdulillah, in Japan I am not restricted to share my thoughts on issues."- Mkini