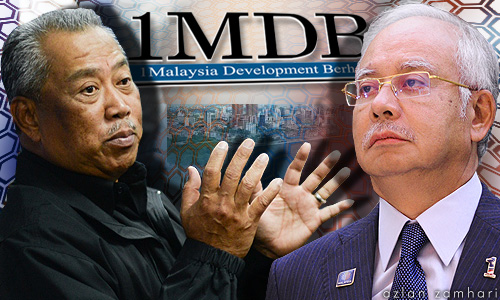 If the task force formed to look into the foreign exchange (forex) losses can produce a report for the cabinet in four months, why is there no report from the task force which probed 1MDB even after two years, asked Muhyiddin Yassin.
The Parti Pribumi Bersatu Malaysia (Bersatu) president was responding to the announcement that the cabinet had agreed to the formation of a Royal Commission of Inquiry (RCI) on the forex scandal based on the task force finding elements of a possible cover-up in the matter.
Since the forex scandal occurred more than two decades ago, Muhyiddin said it was more critical to establish an RCI on 1MDB instead.
Prime Minister Najib Abdul Razak's critics have described the forex RCI as an attempt to divert attention from the 1MDB scandal, and a political move against Bersatu president Dr Mahathir Mohamad, who was prime minister when Bank Negara incurred the losses in the 1980s.
Among others, Muhyiddin said the RCI on 1MDB should look into what happened to the evidence collected by the special task force headed by former attorney-general Abdul Gani Patail.
"Why is it that no report from the special task force has been made public until today?" he asked in a media statement this afternoon.
He said the commission should also determine the extent of Najib's involvement as chairperson of the 1MDB board of advisers in making decisions pertaining to the firm's finances.
Apart from this, he also wanted the commission to look into the contents of the auditor- general's report on 1MDB, which has been classified under the Official Secrets Act, and the relationship between Penang-born businessman Jho Low and Najib.
"Najib should not practice double standards in the two cases (1MDB and forex scandals). If he is truly seeking the truth, an RCI must be formed on 1MDB.
"The investigation on 1MDB is not only limited to Najib but also encompasses the loss of public funds on a colossal scale due to a weak administration," he added.
Other opposition leaders have also called on the government to form an RCI on 1MDB.
Last Thursday, the United States Department of Justice's (DOJ) – in its third court filing related to 1MDB – had mentioned the prime minister's wife and stepson Riza Aziz.
The DOJ has now put the allegedly misappropriated figure at US$4.5 billion and is seeking to seize US$1.7 billion in assets purportedly acquired using funds stolen from 1MDB.
It also claimed that the wife of Malaysian Official 1 (MO1) had received 28 jewellery items, including a pink diamond necklace valued at US$27.3 million, from businessman Jho Low.
Following the first DOJ filing last year, Minister in the Prime Minister's Department Abdul Rahman Dahlan confirmed that MO1 was Najib but argued that the latter was not a subject of investigation.
Najib has denied abusing public funds for personal gain. He has also been cleared by attorney-general Mohamed Apandi Ali.- Mkini