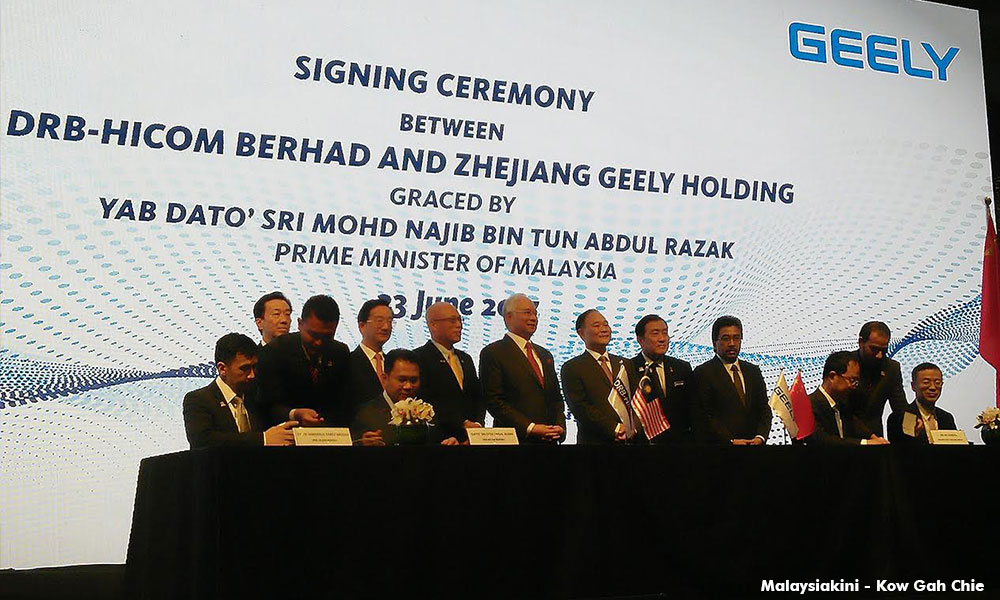 Prime Minister Najib Abdul Razak has insinuated that his predecessor Dr Mahathir Mohamad was responsible for existing problems in Proton Holding Berhad, a company which Najib claims needed to be rescued from an "unsustainable" business model.
Without naming Mahathir, he said the "chief tester" for the automobile company lacked an appropriate commercial understanding of the industry.
"The reality has dawned on almost everyone; namely, that the business model (of Proton) was, and always has been, unsustainable in the long run.
"For far too long, the unrealistic dreams and lack of commercial understanding of its former chief tester were indulged, " Najib said.
Najib told this to a packed room today at the signing of the definitive agreement by DRB-HICOM to sell off 49.9 percent of Proton's stake to China's Zhejiang Geely Holdings Group for RM460.3 million.
Mahathir had previously claimed that he was the "chief tester" for Proton's cars.
"I was the 'chief tester' of all Proton cars when it was developed and marketed. I always use Proton cars for tests, and I drive all Proton cars each weekend myself," Mahathir said.
Najib added that the "chief tester" would still prefer Proton to be 100 percent Malaysian-owned and lose hundreds of millions of ringgit a year.
"But that is the people's money, and it would have been irresponsible for us to continue with a business model that was never going to succeed," he said.
-Mkini