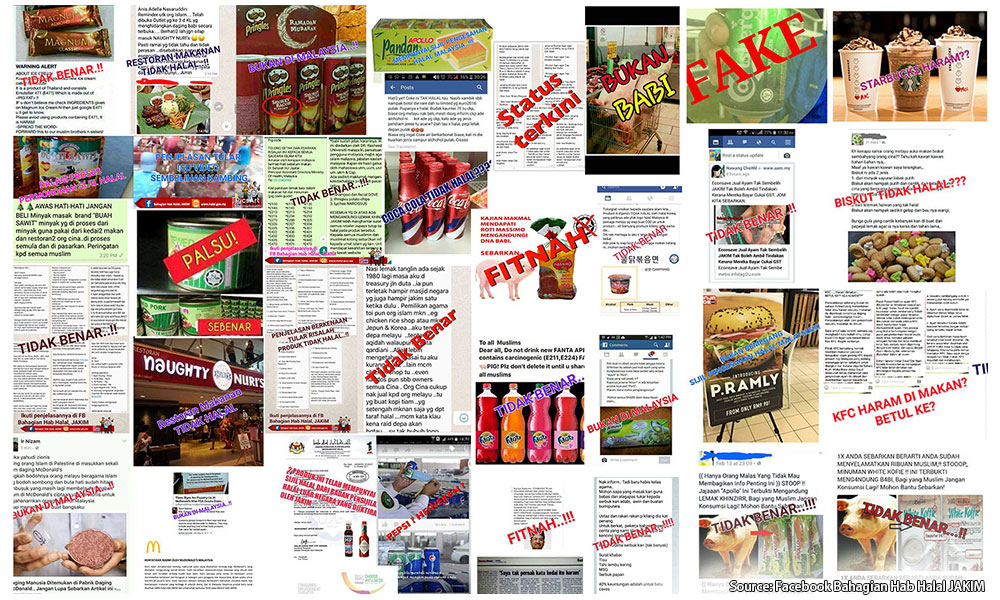 The Islamic Development Department (Jakim) has published a collection of messages clarifying the halal status of food items, in a bid to debunk messages which continue to circulate among Malaysian Muslims.
This includes claims that pork was sold as halal meat at a popular wholesale supermarket chain and that popular food products like canned sardines or even toothbrushes are made using pig products.
"In an effort to make it easier for consumers, we have compiled into this
Facebook album
, our replies to viral messages on halal items which have been circulating on social media in the past years.
"We hope this will stop the re-circulation of viral messages, slander and accusations made by consumers," it said.
It also used the hashtags #YakiniHalalMalaysia (Trust Halal Malaysia), #SemakSebelumSebar (Check Before Recirculating), #JauhiFitnah&Tohmah (Avoid Slander & Accusations) and #TabbayunSebelumMenghukum (Seek Explanation Before Making Judgements).
The album has screenshots of 45 messages which continue to be circulating among Muslims accompanied by Jakim's explanation as well as the date when the Islamic body had debunked the messages.
For example, a viral message claiming popular coffee chain Starbucks uses haram ingredients was debunked in December 2016.
Jakim said Starbucks' ingredients have been verified as halal.
This, however, did not appease some who in the comments section claimed Starbucks is a Jewish establishment and therefore not halal, prompting vigorous debate by those who disagree.
The same disputes occured under Jakim's posting debunking claims that fast food chain McDonald's coffee contains pig products.
In such cases, Jakim is seen responding privately to the comments.

A top comment in the album urges consumers to check the phones of their senior citizen parents who tend to like to share such viral messages via instant messaging apps like WhatsApp.
"When I read through the WhatsApp messages my mother receives, I notice that her friends like sending chain messages on this or that product which halalness is allegedly in question.
"These veterans like to spread such messages to their friends, and now my mother doubts whether such things are halal.
"So remember to check your parents' WhatsApp messages. We have to combat this untrue viral messages!" one Facebook user said.
The comment has received more than 600 likes.
Halal a key consumer issue
Halal is a key issue among consumers in Malaysia, most of whom are Muslim.
Stringent guidelines by Jakim for halal certification has also prompted controversial decisions by international chains like McDonald's, which was forced to stop consumers from bringing in
cakes without halal certification
.
This prompted an outcry, including by Muslim home bakers or small enterprises which cannot afford the lengthy and costly halal certification process.
Concerns also extend beyond food products, with raids on stationery shops over suspected pig bristles used in paintbrushes causing uproar earlier this year.
The Domestic Trade, Consumerism and Co-operatives Ministry intervened by
halting the raids
and allowing sale of such brushes as long as they are sufficiently labeled. - Mkini