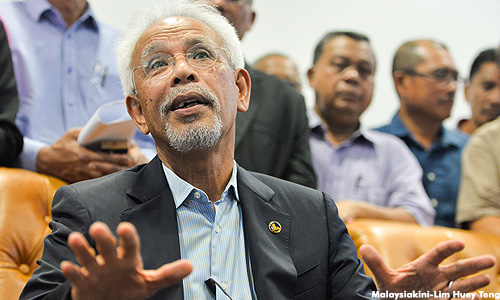 Felda chairperson Shahrir Abdul Samad will meet with Prime Minister Najib Abdul Razak tomorrow to discuss the best solution to resolve the Felda Global Ventures Holdings Bhd (FGV) crisis.
Shahrir said during the meeting, expected to be held at the Finance Ministry in Putrajaya, various issues related to FGV would be discussed in detail.
"I have to meet the prime minister to know more details about the reports related to FGV because I am outside FGV because Felda is only a major shareholder in FGV.
"Maybe, in the meeting, there will be suggestions and suitable recomendations, especially on how to resolve the crisis before Hari Raya. We have about a week," Shahrir told reporters after a Ihya Ramadan Warga Felda at Felda Kerteh 6 in Kemaman, Terengganu, yesterday.
Asked if there would be a major revamp in the management of FGV and also calls for FGV chairperson Mohd Isa Abdul Samad to resign, Shahrir said anything was possible.
"We will have to wait for the outcome of the meeting on Wednesday," he said.
Last Tuesday, FGV Group president/chief executive officer Zakaria Arshad was forced to go on leave with immediate effect, along with FGV group financial officer Ahmad Tifli Mohd Talha, following a boardroom tussle between Zakaria and Isa Samad
The crisis stemmed from late payment by Afghan company, Safitex, to Delima Oil Products Sdn Bhd (DOP), an FGV subsidiary.
Apart from Zakaria, three others have been asked to go on leave. They are FGV chief financial officer Ahmad Tifli Mohd Talha; Delima Oil Products senior manager Kamarzaman Abd Karim and FGV Trading chief executive officer Ahmad Salman Omar.
- Bernama