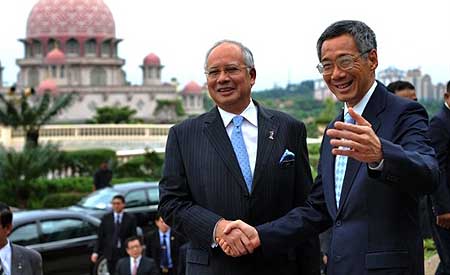 Former information minister Zainuddin Maidin has claimed that Singapore Prime Minister Lee Hsien Loong's recent video statement is a major slap for his Malaysian counterpart.
He noted how Lee had apologised to Singaporeans over the tiff with his siblings with regard to their late father and the island republic's first prime minister Lee Kuan Yew's residence.
"He promised Singaporeans a full public hearing in parliament next month to enable both his party members and the opposition to hold an independent probe and (stated) that he is prepared to answer (the questions raised).
"Whoever watched that video of Lee would ask why Prime Minister Najib Abdul Razak, who is facing a slew of allegations, is unwilling to do what the Singaporean prime minister intends to do," he added in a blog posting.
The former minister, who is better known as Zam, said although Lee's promise had yet to be implemented, his remarks have restored the people's respect and confidence in him.
According to him, this showed that Lee understood the public's evaluation of the Singaporean leadership and it is because of this, he is prepared to face the people to eradicate whatever ill feelings towards him and to strengthen his position as prime minister and the people's support in the PAP.
"This video statement is a 'tamparan yang sangat hebat' (a major slap) for Najib and those defending him who appear to prioritise political charades (sandiwara) to retain power and are fearful of displaying political honesty to retain power," he added.
On Monday, Lee had apologised to Singaporeans for the embarrassment the feud between him and his siblings had caused the nation and vowed to refute allegations that he abused his executive power.
The prime minister also promised to grant government MPs a free vote when he gives the issue a full airing in the legislature on July 3.
"As your prime minister, I apologise to you for this. As the eldest of the siblings, it grieves me to think of the anguish that this would have caused our parents if they were still alive.
"All MPs will then have the opportunity to raise questions for themselves and their constituents. I have instructed that the PAP party whip be lifted.
"I urge all MPs, including the non-PAP MPs, to examine the issues thoroughly and question me and my cabinet colleagues vigorously.
"I hope that this full, public airing in parliament will dispel any doubts that have been planted and strengthen confidence in our institutions and our system of government," he said in the video statement that was aired on the state broadcaster Channel News Asia.
Lee's statement came six days after his two younger siblings accused him of abusing his executive powers to force them to drop plans to demolish the family home.- Mkini