Datuk Seri Najib Razak did not have time for a long speech after being cut short his wife during a picnic in conjunction with the Merdeka Day which was attended by the couple this morning.
The former prime minister had opened his speech by pledging to continue monitoring the government of Pakatan Harapan especially in terms of the promises it made ahead of the 14th general election.
"Thank you for being with us because we love this country.
"We will do our best for the country, any promise that have not been fulfilled, we know lah…" Najib said at the Merdeka picnic program held at the Botanical Gardens in Kuala Lumpur.
His wife Rosmah spontaneously interrupted his speech at that point in jest: "Cannot talk, or you will be called in again (by the authorities). "
Her words were greeted with laughter by the crowd of about 120 people.
Najib then ended his speech by shouting 'Merdeka (independence)' three times.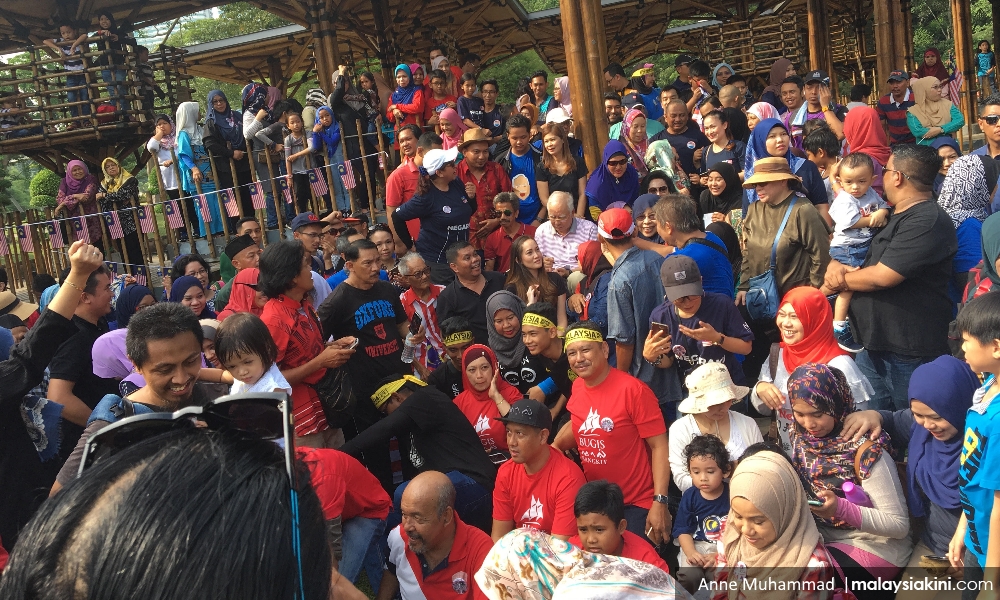 For more than two hours, Najib and his wife mingled and chatted with the crowd while enjoying the 'nasi lemak' provided by the organizer, Datuk Lokman Noor Adam.
Most of those who came for the picnic were dressed in blue, and some were wearing clothes with his face and the BN flag in the background.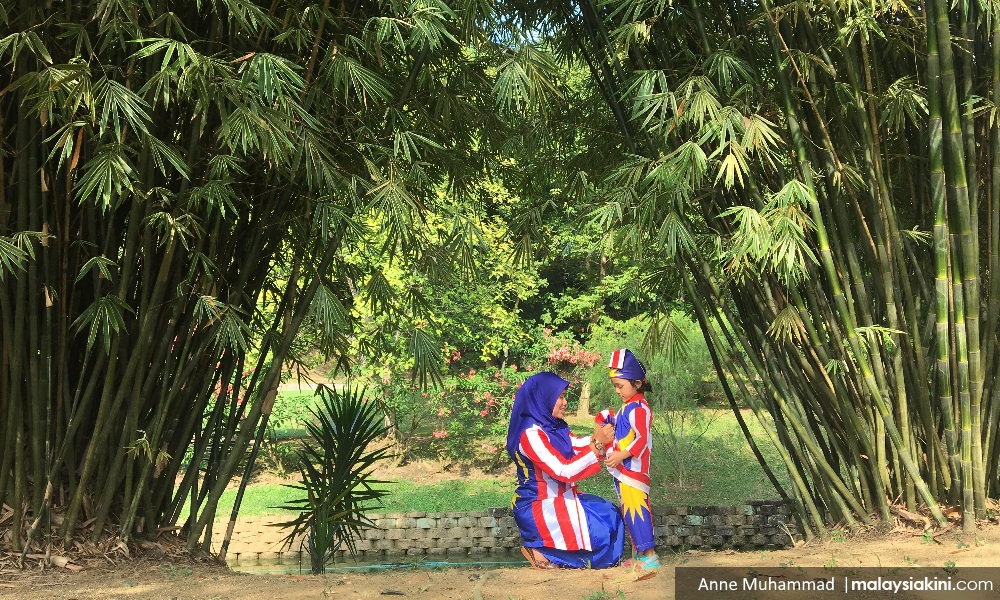 A family even donned clothes made in the pattern of the national flag Jalur Gemilang.
Lokman when asked about the lacklustre number of attendees explained the program was initially scheduled to take place at the Tun Abdul Razak Memorial Hall which can accommodate only 120 people.
"The total attendance was shortlisted to only 120 people, and we had to reject many who wanted to join.
"But the location was moved at the last minute," he said.
-THE ABOVE IS A GOOGLE TRANSLATION OF THE ORIGINAL STORY IN MALAY FROM MALAYSIAKINI APPENDED BELOW
Rosmah pesan Najib: Kalau terus bersuara nanti kena panggil lagi
Datuk Seri Najib Razak tidak sempat berucap panjang selepas dipotong isterinya ketika program kecil-kecilan sempena Hari Merdeka yang dihadiri pasangan itu, pagi tadi.
Bekas perdana menteri itu membuka ucapannya dengan berjanji untuk terus memantau kerajaan Pakatan Harapan (HARAPAN) terutama dalam soal janji manifesto PRU ke-14.
"Terima kasih kerana dapat bersama-sama kita kerana kita cintakan negara ini.
"Kita akan melakukan yang terbaik untuk negara. Mana-mana janji yang tak ditunaikan, kita tahulah…" kata Najib dalam program perkelahan Hari Merdeka di Taman Botani, Kuala Lumpur.
Ketika itu, Rosmah dengan spontan menyampuk ucapannya dengan berseloroh: Tak boleh cakap nanti kena panggil (pihak berkuasa) lagi."
Kata-kata itu disambut ketawa kira-kira 120 orang yang hadir.
Najib kemudian menamatkan ucapannya dengan melaungkan "merdeka" sebanyak tiga kali.
Selama lebih dua jam, Najib dan isteri meluangkan masa beramah mesra dan berswafoto bersama hadirin sambil menikmati juadah nasi lemak yang disediakan penganjur, Datuk Lokman Noor Adam.
Kebanyakannya berbaju biru, malah ada juga yang memakai baju berlatarbelakangkan wajahnya dan mengibar bendera BN.
Sebuah keluarga pula tampil sedondon dengan pakaian bercorak Jalur Gemilang.
Lokman ketika ditanya berhubung jumlah hadirin yang sederhana menjelaskan, program pada mulanya dijadual berlangsung di Dewan Memorial Tun Abdul Razak yang hanya boleh memuatkan 120 orang.
"Jumlah kehadiran sudah disenarai pendek kepada 120 orang sahaja, dan kita terpaksa tolak banyak lagi yang mahu sertai.
"Tetapi lokasi terpaksa dipindah di saat akhir ke sini," katanya lagi.- MKINI
MKINI