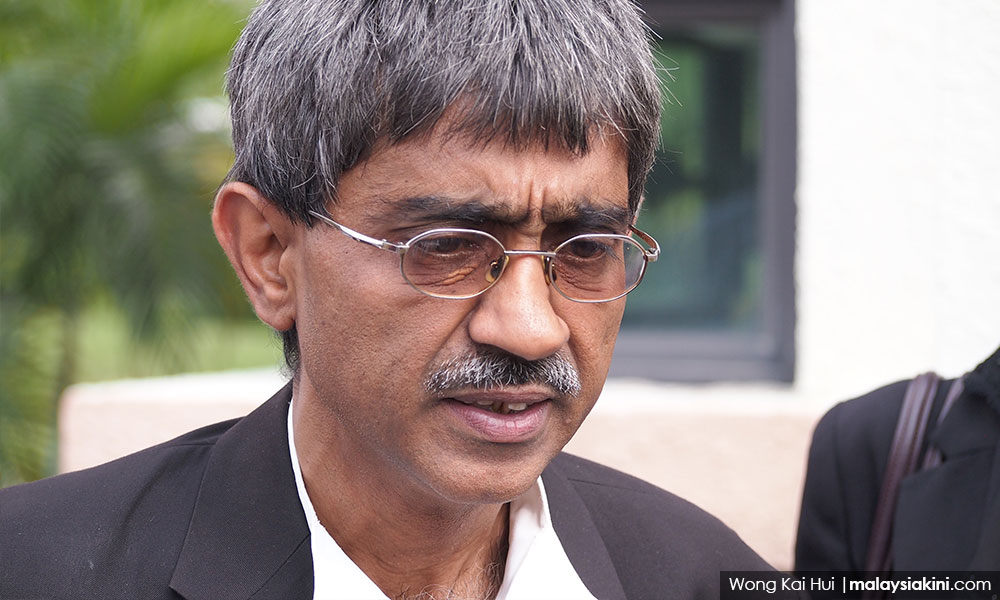 Lawyer Mohd Haniff Khatri Abdulla was questioned by the police yesterday on his allegation that a senior judge interfered in the Karpal Singh sedition case before the Court of Appeal two years ago, to ensure a majority decision to convict the late DAP leader.
This came in relation to a
police report
lodged on Aug 23 by Karpal's daughter, Sangeet Kaur Deo, on the revelation made by Haniff in a Facebook posting.
Haniff said he did not reveal the name of the judge or the source of the information he obtained on the judicial interference during the two-hour questioning.
He would so so if a special task force is formed on the matter - which should subsequently turn into a Royal Commission of Inquiry (RCI) in a bid to clean up the judiciary.
"I welcome the initial probe and pledge to assist in the investigation, according to the law, in answering questions.
"However, I will not reveal the source of from which I received the information, between 9.30pm and 11pm on Aug 20. The best forum to reveal this information would be to a task force, which would be a precursor to the formation of an RCI," he said.
For this purpose, Haniff said, he wants de facto Law Minister VK Liew to consider forming an RCI on the judiciary.
Karpal (photo) was charged with uttering seditious words against the Sultan of Perak, at his legal firm on Jalan Pudu Lama in Kuala Lumpur, between noon and 12.30pm on Feb 6, 2009.
He was alleged to have said that the removal of Mohammad Nizar Jamaluddin as mentri besar of Perak by the sultan could be questioned in a court of law.
On June 11, 2010, the High Court acquitted Karpal without calling for his defence, but this decision was reversed by the Court of Appeal on Jan 20, 2012, and it ordered Karpal to enter his defence.
In the end, he was found guilty on Feb 21, 2014, and fined RM4,000.
Karpal died in a road accident on April 17, 2014.
The judges of the Court of Appeal then were Justice Mohtaruddin Baki and Justice Kamardin, who upheld the conviction, while Justice Tengku Maimun Tuan Mat dissented.
Karpal's family has appealed against the conviction before the Federal Court and the matter is still pending. - Mkini