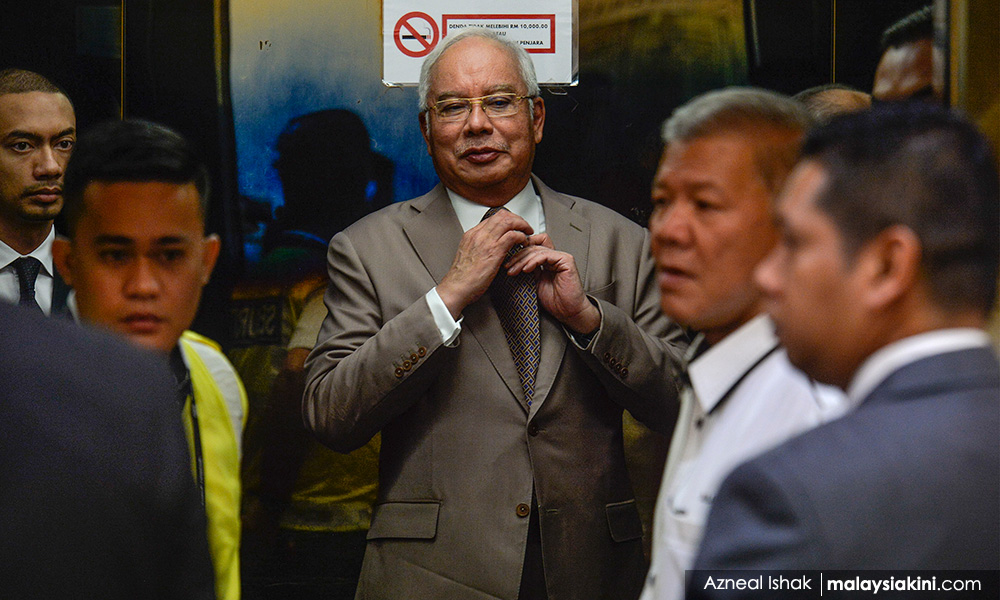 The criminal trial of former prime minister Najib Abdul Razak involving the alleged misappropriation of funds from SRC International Sdn Bhd enters its 11th day at the Kuala Lumpur High Court today.
Malaysiakini brings you live reports of the proceedings.
---
KEY HIGHLIGHTS
'Unusual' transactions may indicate knowledge of incoming funds - banker
Multi-million ringgit cheques caused overdraft
---
'Unusual' transactions may indicate knowledge of incoming funds - banker
10.35am
- AmBank Raja Chulan branch manager R Uma Devi agrees with the defence on the unusual nature of transactions involving money going in and out of the three AmBank accounts that went from overdraft to being regularised again.
During cross-examination by defence counsel Harvinderjit Singh, the witness adds that these types of transactions, in which overdrafts of the accounts are triggered and later regularised by further transactions, may indicate the person involved knows money will be coming in to settle the overdrafts.
Harvinderjit:
Do you agree that the operation of these three accounts was unusual in that cheques issued from points of time when the accounts balance did not have enough to cover (the cheques)? Can we infer the person issuing the cheques did so with no specific knowledge of the accounts' balance?
Uma Devi:
Either that, or they know already that got (money) coming soon (to cover the overdraft in the accounts). We have customers who do that in regard to their accounts.
Multi-million ringgit cheques caused overdraft
9.50am -
Witness AmBank Raja Chulan branch manager R Uma Devi (
below, right
) confirms that there was a series of rapid transactions that caused AmBank accounts ending with 880, 906 and 898 to go into overdraft over the 2014 period.
However, further transactions regularised these accounts.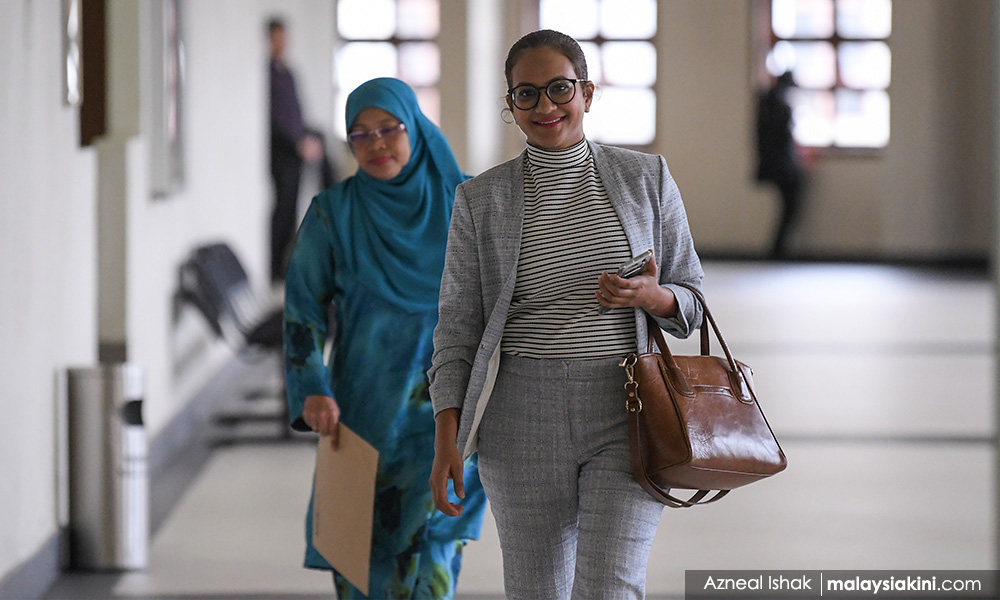 During cross-examination by defence counsel Harvinderjit Singh, she confirms bank documents presented in court in relation to these transactions.
These saw cheques presented for millions that caused these accounts to go into overdraft, only for further monetary transactions into the accounts to regularise them.
Harvinderjit made reference to a bank statement for September 2014, which saw a cheque for RM5 million presented for payment, causing the 898 account to go into overdraft.
This was followed the next day by a credit transfer of RM5 million to regularise the account.
"With earlier entries and remittances, can we tell exactly which party put in this amount and what the relationship manager discloses to the bank on what the amount is for?" Harvinderjit asks Uma Devi, who replies in the affirmative.
Uma Devi adds that only the AmBank relationship manager would know what was the purpose of these transactions were.
Relationship managers are responsible for handling high-value clients, who have over RM250,000 in bank deposits.
Uma Devi also confirms that RM10 million was transferred in and out of AmBank account ending 880 on Feb 10, 2015.
---
9.21am
- Najib enters the dock as judge Mohd Nazlan Mohd Ghazali comes into court to begin proceedings.
9.08am
- It's raining heavily as Najib arrives. Clad in a cream-coloured suit, he enters the court and takes a seat in the front row of the public gallery as he waits for proceedings to begin.
---
Former prime minister Najib Abdul Razak is being tried on three counts of criminal breach of trust (CBT) under Section 409 of the Penal Code; three counts of money laundering under Section 4(1)(b) of the Anti-Money Laundering, Anti-Terrorism Financing and Proceeds of Unlawful Activities Act 2001 (Amlatfa) 2001; and one count of abuse of power under Section 23 of the MACC Act 2009.
If convicted, the Pekan MP can be sentenced up to 20 years' jail, whipping and fine for the CBT charges; 20 years' jail and a fine not less than five times the amount involved or RM10,000, whichever is higher, for the abuse of power charge; and 15 years' jail and a fine up to RM15 million or five times the amount involved, whichever is higher, for the money laundering charges.
Proceedings will be presided by judge Mohd Nazlan Mohd Ghazali and is set to kick off at 9am this morning with resumption of the defence's cross-examination of Ambank Jalan Raja Chulan branch manager R Uma Devi.
Yesterday, the 21st prosecution witness testified that the balance for one of Najib Abdul Razak's several bank accounts with AmIslamic Bank peaked at RM1.9 billion in 2013.
Prior to this, Harvinderjit had walked Uma Devi through several transactions including the procedures required in reporting large transactions to Bank Negara Malaysia (BNM).
It was revealed that the balance of the said bank account had amounted to RM756 million in 2012.
Uma Devi also testified that approximately RM304 million was deposited into the account in 2011 by the Saudi Finance Ministry.
Yesterday, the issue of Najib returning US$620 million to a purported Saudi donor was raised during the cross-examination by Harvinderjit.
This took place when Harvinderjit read out the contents of an alleged letter from Najib dated July 30, 2013.
"I convey to you (AmBank) the instruction to convert funds in the current account of US$620 million, and to remit the foreign currency in a single transfer of personal gift I received per the authorisation letter," the lawyer recites.
Speaking to the witness, the lawyer then pointed out that there seemed to be inconsistencies between this letter and another letter that appeared to point to multiple transactions.
"Do you agree that it appears the bank had acknowledged this amount of money credited in the account was a donation and gift, and (that there was) a representation to the bank in 2013, 'I am returning the unutilised portion back'?" Harvinderjit said, adding that this implied the money was returned to the sender.
This harked back to 2013 when Najib claimed that he not only received RM2.4 billion in donation in his personal account from a member of the Saudi royal family, but also that the then premier purportedly returned the unutilised portion of US$620 million to the alleged donor.
Earlier yesterday, Nazlan had also dismissed Najib's application to strike out the seven charges, ruling that the accused had neither been misled nor prejudiced by the way the charges were framed.
The decision was delivered after the court had heard last Friday the application by the defence team to dismiss the charges due to Najib being allegedly misled by purported ambiguous wording of the offence in the charges.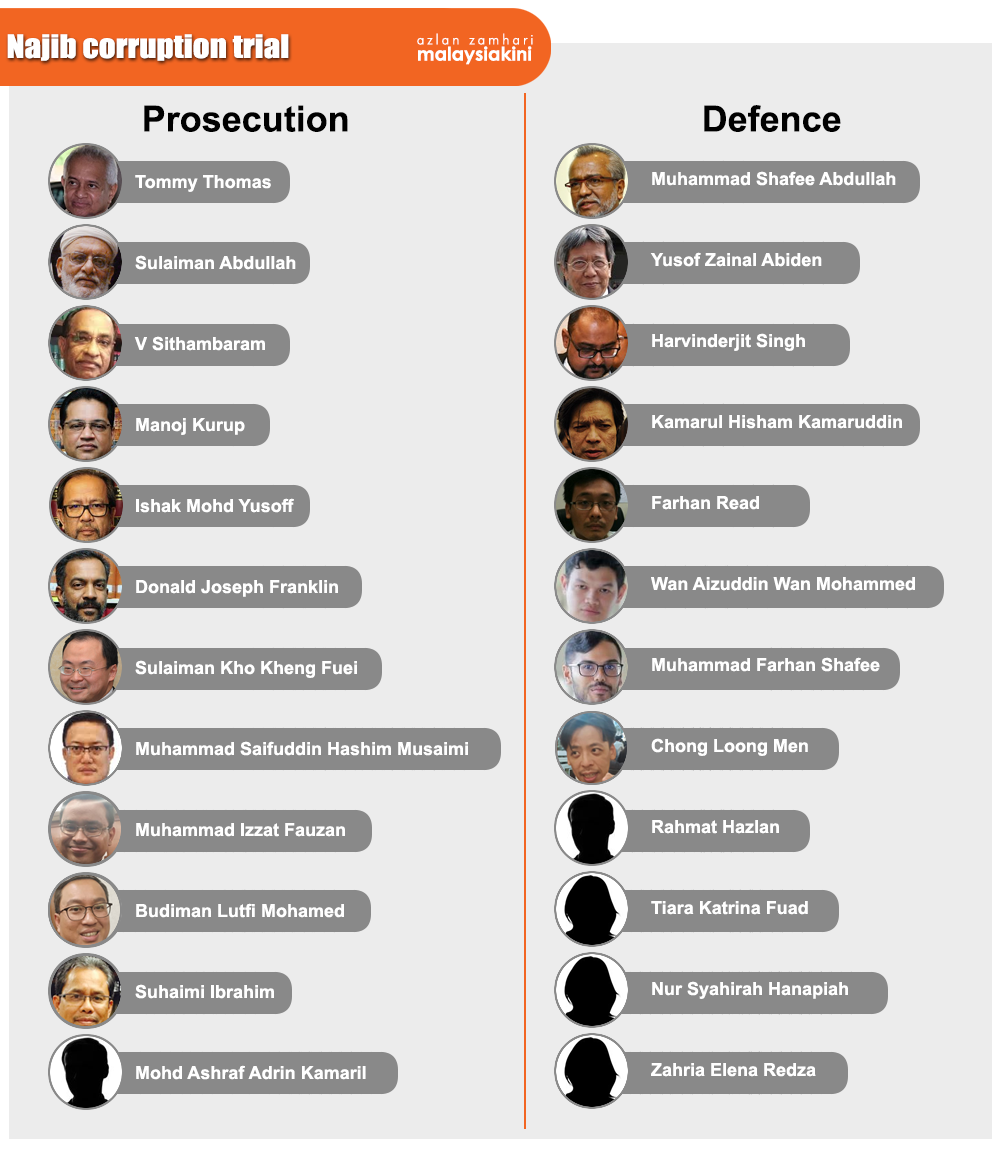 Attorney-General Tommy Thomas leads the 13-person prosecution team, comprising deputy public prosecutors Sulaiman Abdullah, V Sithambaram, Manoj Kurup, Ishak Mohd Yusoff, Donald Joseph Franklin, Suhaimi Ibrahim, Muhammad Saifuddin Hashim Musaimi, Sulaiman Kho Kheng Fuei, Budiman Lutfi Mohamed, Mohd Ashraf Adrin Kamaril, Muhammad Izzat Fauzan, and Mohd Ashraf Adrin Kamaril.
Najib is represented by a 13-person defence team led by veteran criminal lawyer Muhammad Shafee Abdullah.
Other members of the defence team are former solicitor-general II Mohd Yusof Zainal Abiden, Harvinderjit Singh, Kamarul Hisham Kamaruddin, Chong Loong Men, Devanandan S Subramaniam, Farhan Read, Wan Aizuddin Wan Mohammed, Rahmat Hazlan, Muhammad Farhan Shafee, Tiara Katrina Fuad, Nur Syahirah Hanapiah, and Zahria Eleena Redza. - Mkini