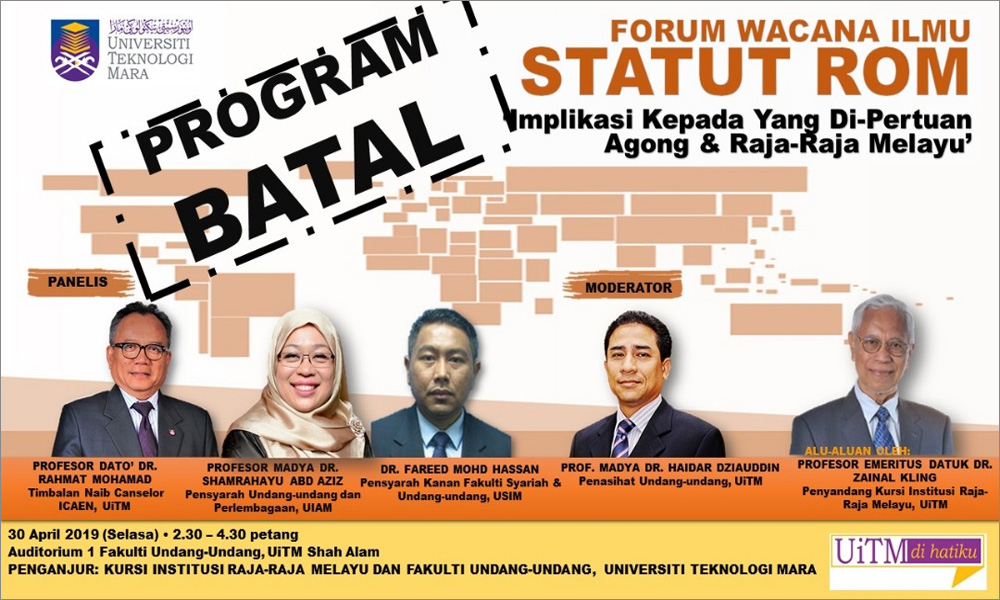 A forum on the Rome Statute of the International Criminal Court (ICC) scheduled to be held at Universiti Teknologi Mara (UiTM) today has been cancelled.
The cancellation of the forum, 'Academic Discussion on the Rome Statute: The implications to the Yang di-Pertuan Agong and Malay rulers', slated for 2.30pm today, was confirmed by the university's communications department.
However, no reason was forthcoming, with the officer merely answering "Not sure" when asked the reason behind the cancellation.
Today's forum was meant to involve various panellists, including UiTM deputy vice-chancellor (Industry, Community, Alumni and Entrepreneurship Network) Dr Rahmat Mohamad; International Islamic University Malaysia (IIUM) law lecturer Associate Professor Dr Shamrahayu Abdul Aziz; Universiti Sains Islam Malaysia law lecturer (Usim) Dr Fareed Mohd Hassan and UiTM legal advisor Dr Haidar Dziauddin.
Rahmat, Shamrahayu and Fareed, alongside a fourth academic Usim law lecturer Hisham Hanapi, had reportedly written a controversial
paper
which had been labelled as "biased" and which was purportedly used to convince the Conference of Rulers to reject the Rome Statute.
Malaysiakini is attempting to contact the panellists of today's intended forum for responses to its cancellation.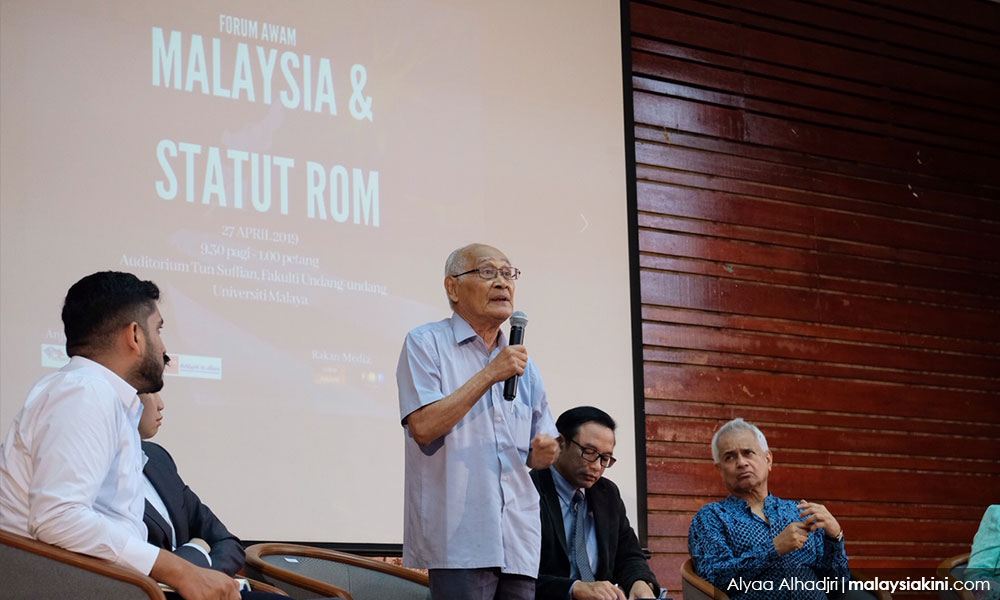 The cancellation of the forum came one day after police
launched a probe
into an earlier forum (
above
) on the Rome Statute, organised by student activists and held at University Malaysia (UM), under the Sedition Act.
The investigation followed several
police reports
being lodged against the forum, especially against one of its speakers, activist and intellectual Syed Husin Ali, as a result of
comments
he made pertaining to the monarchy.
The forum at UM was organised by the student activists who leaked an executive summary of the paper by the four academics.
The students had invited the latter four to participate in the forum to discuss and defend their arguments. However, they did not attend.