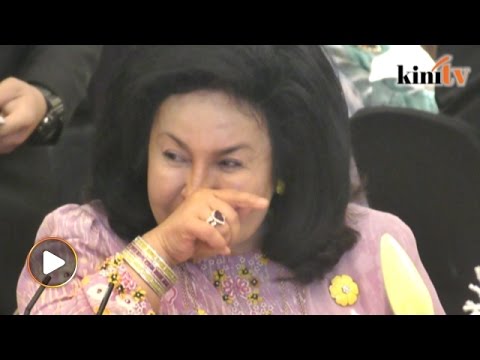 Rosmah Mansor has denied that government funds allocated for her brainchild - the Permata programme - are abused.
"I would like to stress that whatever budget we receive from the government does not go into my handbag," she said, leaving her audience in stitches.
The wife of Prime Minister Najib Abdul Razak mentioned this in her acceptance speech for the Lifetime Achievement Award for Leadership in Early Childhood Education in Kuala Lumpur.
Earlier, Rosmah, in sharing her thoughts about Permata, described the programme as being close to her heart.
"I can go on talking about Permata, but I suppose you would have to stay until evening.
"I have much to tell about Permata. Sometimes my husband would say 'Can you please close your mouth and eyes, so we can have a little rest'," she said, much to the amusement of those present.
As for the funds provided to Permata, Rosmah said these was kept with the Treasury and subjected to various procedures.
"We have to follow certain procedures. I wouldn't know the procedures, you have to ask (Permata programme working committee chairman Siti) Azizah (Sheikh Abod) about it.
"She is the one who requests the money, (decides on) how it is to be spent and how it is to be disbursed. She doesn't even report to me.
"That is what I want all you to be aware of. The money doe not go into my handbag," she reiterated, to applause from the audience.
RM85 million was allocated for the Permata early education programme for gifted children in the 2017 Budget.
The programme had come under fire from the public who questioned the disbursement of the funds.
Rosmah on why Trump won
Meanwhile, Rosmah also gave her opinion on the possible reason why US president-elect Donald Trump won the presidency.
She spoke of her daughter who was currently doing a Masters degree in Public Administration at Harvard University and an MBA at Wharton Business School who told her how she had met Trump's daughter Ivanka Trump.
"It was nice of Ivanka to give her the time in spite of her busy schedule.
"She (Rosmah's daughter) got very excited and she called me at 4 in the morning to tell me all about it," said Rosmah.
Her daughter expressed her happiness at having met Ivanka, and Rosmah believed they had exchanged some stories between them.
"So I was telling my husband in spite of her wealth and her father going to be president she's still very down-to-earth, warm and friendly.
"So this is a lesson to all of us. So now you know how Trump made it as the president," she added.
After Rosmah's speech, those present sang Happy Birthday for Rosmah who will turn 65 next week.
This is not the first time that Rosmah had spoken about Trump. Earlier this week at a separate function, Rosmah said
Trump had won
the US elections as he has the "personal touch and warmth to connect with people".
She was speaking on her role with regard to the telephone conversation between her husband, Najib and Trump.- Mkini