(LSS) – Sotong does it again. Bergurau, menghasut, memfitnah is what he does best.
In conjunction with the MRT phase 1 opening today, PM Najib announced that the Sungai Buloh to Kajang MRT project is RM21 billion – on time and RM2 billion below budget.
This blows Rafizi's "internal sources" claims in July 2012 that the project cost has ballooned three-fold to RM100 billion – which he declared in a press conference and issued a statement.
Why do people still trust this "5 court-losses-in-a-row" confirmed liar and self-admitted penghasut?
"Saya cuma berseloroh tentang cincin Rosmah".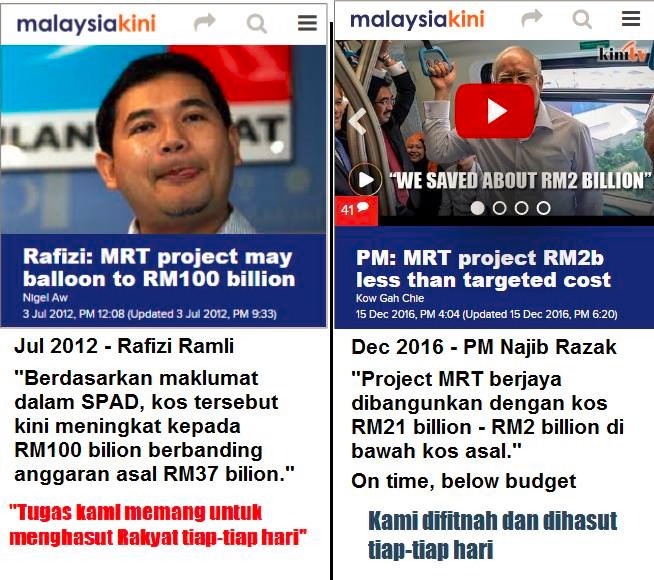 KEADILAN siasat kos projek MRT naik RM63 bilion
(Keadilan Daily) – KEADILAN mendesak kerajaan menyatakan kos sebenar projek My Rapid Transit (MRT) menghubungkan Sungai Buloh ke Kajang.
Pengarah Strateginya, Rafizi Ramli berkata, berdasarkan maklumat daripada Suruhanjaya Pengangkutan Awam Darat (Spad), kos tersebut kini meningkat kepada RM100 bilion berbanding anggaran asal RM37 bilion.
"Kita tidak mahu kos berubah-ubah dan berlaku ketirisan dalam projek ini. Sebab itu, kita lontarkan persoalan ini supaya kerajaan lebih telus," katanya kepada Keadilan Daily.
Menurut Rafizi, ketirisan dalam projek tersebut menyebabkan negara bakal menanggung hutang yang tinggi dan memberi kesan kepada generasi akan datang.
Beliau berkata, pihaknya akan menyiasat perkara itu bagi memastikan projek tersebut dilaksanakan dengan betul.
MRT merupakan projek infrastruktur terbesar di Malaysia dan dijangka mula dilaksanakan pada suku kedua atau ketiga tahun ini.
Laluan MRT sepanjang 51 kilometer dari Sungai Buloh ke Kajang mempunyai 31 stesen, melalui Bandar Utama, Damansara, Taman Tun Dr Ismail, pusat bandar raya Kuala Lumpur dan Cheras.
*****************************************************
PM: MRT project RM2b less than targeted cost
(Malaysiakini) –
Prime Minister Najib Abdul Razak announced the cost of the Mass Rapid Transit (MRT) project to be RM21 billion, which is RM2 billion less than the expected expenditure.
"This means we saved about RM2 billion," Najib said after launching the first phase of the MRT at Kwasa Damansara in Selangor.
According to him, all the contracts for the entire stretch of 51km Sungai Buloh-Kajang Line (SBK), also known as MRT Line 1, had been awarded and the works were near completion.
He also praised the project progress, which were completed in time and never once missed the targeted completion schedule during the five years of construction.
Najib also annonced that commuters can ride the MRT for free for a month, and charges for the service would come into effect starting Jan 17.
The free rides are also extended to feeder buses provided at the 12 stations along the 21km elevated line.
According to Bernama, the first phase of the route, which involves 12 stations covering a distance of 21 kilometres between Sungai Buloh and Semantan, would start tomorrow, from 6am.
The stations are Sungai Buloh; Kampung Selamat; Kwasa Damansara; Kwasa Sentral; Kota Damansara; Surian; Mutiara Damansara; Bandar Utama; Taman Tun Dr Ismail; Phileo Damansara; Pusat Bandar Damansara and Semantan.
The second phase of the MRT project, which will cover a distance of 30km and involve 19 stations from Semantan to Kajang, is expected to be fully operational from July 31, 2017.
With the launch, MRT Corp, the developer and asset owner of MRT, will officially hand over the first phase to operator Rapid Rail Sdn Bhd, the subsidiary of Prasarana Malaysia Bhd.
It was reported that the project delivery partner for SBK Line, MMC-Gamuda KVMRT Sdn Bhd had assured the construction cost would be reduced, without compromising on the safety and quality.
"If any of the job packages undertaken by contractors fall behind schedule, MMC-Gamuda was required to step in and help speed up completion," MRT Corp Sdn Bhd project director for MRT Line 1 Marcus Karakashian was quoted by New Straits Times as saying.
Also present was Transport Minister Liow Tiong Lai, Finance Minister II Johari Abdul Ghani, Minister in the Prime Miniser's Department Nancy Shukri and Selangor Senior Executive Councillor Teng Chang Khim.
The construction of MRT Line 2 or Sungai Buloh-Serdang-Putrajaya Line began on Sept 15 while the MRT Line 3 is undergoing feasibility study.
It was reported the MRT Line 3 is expected to cover Ampang Jaya, Kuala Lumpur City Centre, Jalan Bukit Bintang, Tun Razak Exchange, Bandar Malaysia, KL Ecocity, Pusat Bandar Damansara, Mont Kiara and Sentul.
Commuter will be able to use Touch 'n Go Cards to travel on SBK Line. Beside that, they can also purchase weekly and monthly passes, priced at RM2.50 and RM10 respectively.
Children under seven years old can travel for free, while the elderly, students and the disabled will enjoy 50 percent off the fares.
The MRT will operate from 6am to 12am on weekdays and from 6am to 11pm on weekends.