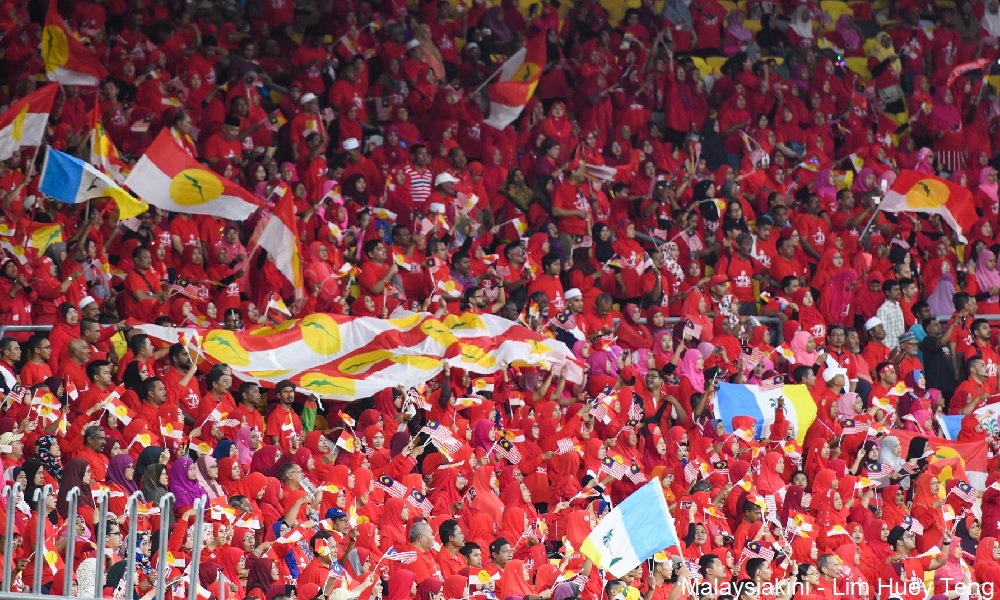 Umno yesterday sought to put together a carefully orchestrated gathering at Bukit Jalil Stadium in conjunction with the party's 71st anniversary in a bit to boost morale and create a feel-good factor in the party ahead of the 14th general election.
The excitement certainly caught on with some of the 80,000 supporters at the event, not so much due to Prime Minister Najib Abdul Razak's spirited speech or Umno's show of force, but by the boxes upon boxes of freebies they could take home.
Loyalists who are mobilised to attend party functions would normally have to be content with some pocket money, water and some light food.
This time, they were treated to Gardenia's Twiggies - cream-filled sponge cakes. However, they received not one, not two, not even three, but an entire box of Twiggies numbering 40 each.
Attendees were also seen carting packs of six Ribena drinks.
Rohana Abdul Razak, who travelled from Bandar Hilir, Malacca, was elated at Umno's generosity.
"Umno always gives freebies like this, but this time it's the best because we're really getting a lot! I'll need to ask my children to help me carry them onto the bus. I've even taken some for my neighbours," she told Malaysiakini.
She was among the hundreds of people queuing at tents outside Bukit Jalil Stadium as workers cleared out boxes of goodies.
Rohana, who attended the celebration with her three children, said she was given RM30 as pocket money as well as a T-shirt bearing the logo of Umno's 71st anniversary.
Meanwhile, Rohani Yakob, also from Malacca, said she was grateful for the goodies she received while lugging a box of Gardenia's Twiggies that weighed 3.2kg.
"Everyone got bread, box drinks, T-shirt, a bag and some money. We'll be bringing all this back by bus to Malacca," said a beaming Rohani.
Apart from the free food, the carnival which accompanied Umno's anniversary celebration also offered lucky draws.
The prizes totalled RM1 million in value, which included a car.- Mkini