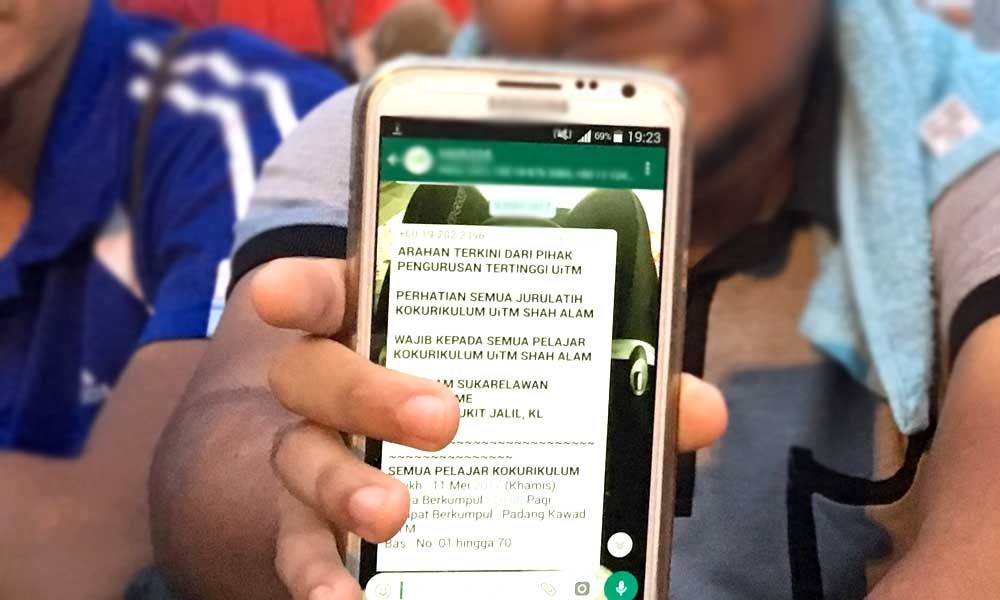 Thousands thronged Bukit Jalil Stadium last night to celebrate Umno's 71st anniversary but the event did not go down well for everyone.
As dusk fell, lethargic-looking youths sat along the sidelines while party loyalists began streaming into the stadium in anticipation of Umno President and Prime Minister Najib Abdul Razak's speech.
"UiTM (Universti Teknologi Mara) told us we were attending a volunteerism programme but we were tricked.
"We arrived since morning just to sit under the tree. We've done the free blood test twice and now we're back to sitting under the tree again.
"Now we're very tired and have no idea what else to do," said a UiTM student who only wanted to be known as Syafiq.
The Umno anniversary celebration was accompanied with a carnival that included various programmes, such as a job fair and free health checks.
Syafiq was among the 110 bus load of university students that were ferried to Bukit Jail Stadium as early as 10am. Each bus could carry 44 people.
UiTM had informed its students that they would be attending a "Patriotism Volunteerism Programme" and that attendance was compulsory.
Syafiq said students were told that they would face action if they failed to attend.
Little did he and his fellow students know that they would instead end up at the 71st anniversary celebration of Umno.
Another UiTM student, Razak, said he was puzzled why his university had sent them to a political function when the government often discouraged students from participating in politics.
"Not only was the event we were supposedly going to didn't happen, but I think this programme is not suitable for us as the government doesn't want students to be involved in politics.
"But now it's different (as we are at a political event)," he said.
Ismail, another UiTM student, said they should not be forced to attend an Umno programme as they have attained the voting age of 21 and are capable of deciding on their own.
"We are already 21-years-old, they shouldn't force us like this.
"We have our own party that we favour and our vote is secret," he said.
Malaysiakini has withheld the full names of the students as they may face disciplinary action for speaking to the media.
The students also shared with Malaysiakini, a message blast purportedly sent out by UiTM, falsely claiming that they would be attending a volunteerism programme.
The message, directed at all co-curricular students, instructed them to gather at the UiTM marching field at 10am and were to board bus 1 to 70.
The second batch was aimed at first year students who are members of uniform societies.
They were instructed to gather at the same venue at 2pm and were to board bus 41 to 110.
Apart from UiTM students, community college students also found their way to the Umno anniversary celebration.
However, they too, claimed they were tricked to the event.
The community college students shared with Malaysiakini a letter dated May 9, allegedly issued by the Malaysian Civil Defence Force under the Prime Minister's Department, which asked cadets of the National Civil Defence Institute (Pispa) in community college to attend the event last night.
However, they were told that the event would be a volunteerism programme for Pispa cadets from community colleges together with a minister.
The letter said the instruction applied to four states, namely Selangor, Negeri Sembilan, Perak and Malacca.
One such student was Faiz, who was surprised to find himself at the 71st anniversary celebration of Umno.
"We were told we will be attending a different event but it turned out to be an Umno programme.
"We have been here since morning. We're very tired and don't know where else to go. If we knew it will be this sort of programme we wouldn't have come," he said.
Faiz said the Pispa cadets were given RM10 each for their attendance.
On arrival, Faiz said the cadets were briefed by the event's secretariat and given Umno T-shirts.
However, they were told not to post their photographs on social media.
Apart from tertiary students, large group of religious school students were also spotted at the event.
One such school was Sekolah Tahfz Imtiyaz Ulul Albab in Alor Gajah, Melaka.
The school's warden Anuar Ismail led some 230 students aged 13, 14 and 16.
Anuar said they were there at the invitation of Umno acting deputy president Ahmad Zahid Hamidi to recite prayers at the event.- Mkini