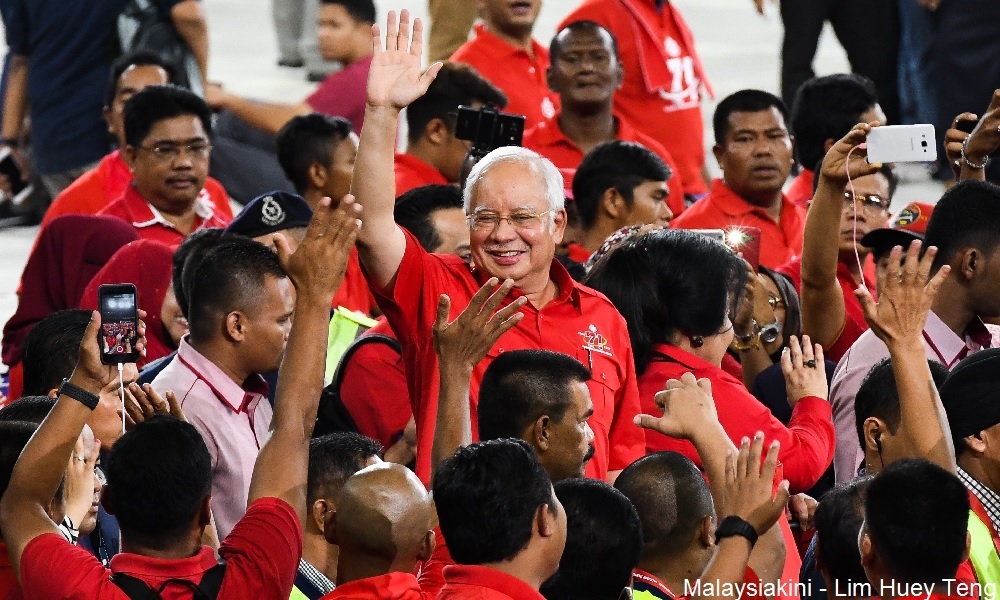 Umno president Najib Abdul Razak marked the party's 71st anniversary by taking a swipe at a former party leader, while praising PAS president Abdul Hadi Awang
Najib said none could have imagined how this former leader could have betrayed the party and colluded with its old foe, DAP.
"What is upsetting is that he swallowed his own spit, and cium mulut (kissed) with Umno's foe because of a personal agenda.
"We did not forget who taught us that DAP was a racist chauvinist party, and for decades sowed hatred towards DAP that was an enemy to Malays and Islam," Najib said in his speech at the anniversary bash in the Bukit Jalil National Stadium tonight.
Najib mentioned no names, but his remarks were an obvious attack on former Umno strongman Dr Mahathir Mohamad, who is now with the opposition.
The prime minister said Mahathir's message was why PAS considered DAP an enemy of Islam.
"For PAS, DAP is the enemy of Islam, while for Umno, DAP is the enemy of the Malays," he said.
He then cited Hadi's remarks about how PAS' cooperation with Umno was a show of mature politics.
"The politics between PAS and Umno, we don't squabble, we politicise for mutual benefit," he said.
He further cited Hadi as saying that one can have different opinions in politics, but must be united in what is good for the people.
Najib then took a quick jab at PKR, saying he had heard news that PAS had officially severed ties with the party today.
Umno and PAS had warmed up to each other last year, over Hadi's plans to amend the Syariah Courts (Criminal Jurisdiction) Act and other matters concerning the Muslim community.
PAS however maintains that it will serve as a third force in politics, and not ally itself politically with Umno.
This is expected to turn the upcoming general election into a three-cornered fight between BN led by Umno, PAS, and the Pakatan Harapan coalition which Mahathir is now part of.
About 80,000 Umno members turned up for the anniversary celebration tonight.
Besides the Umno leadership line-up, leaders from all BN component parties were also present at the event.-Mkini