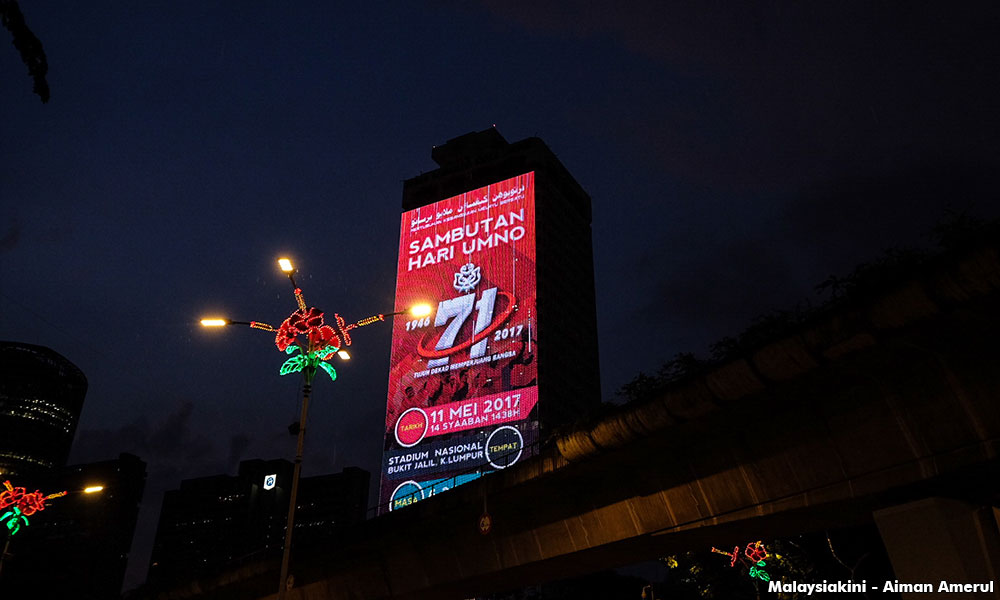 The logo of Umno's 71st anniversary celebration towered over the skyline at Dataran Merdeka, thanks to the Kuala Lumpur City Hall (DBKL)
The anniversary logo, which includes the Umno emblem, was screened on the digital display covering the 34-storey DBKL headquarters along Jalan Raja Laut.
The massive display was promoting Umno's gathering at Bukit Jalil stadium tonight, which will be attended by the party's top leadership including Prime Minister Najib Abul Razak.
It also showed the time and venue of the celebration as well as as the programmes, including a job fair.
Several members of the public took photographs and video recordings of the Umno advertisement illuminating the KL skyline, which found their way to social media.
A visit by Malaysiakini to the site confirmed Umno's giant vertical advertisement on the DBKL headquarters.
The display had raised the ire of Segambut MP Lim Lip Eng, who questioned how BN would react if the same was done in Pakatan Harapan-controlled states.
"There would be a media frenzy if Menara PKNS in Petaling Jaya displayed the PKR logo or Komtar in Penang installs a giant (DAP) rocket," he told Malaysiakini.
Lim questioned whether the Umno taking over the display on the DBKL building was out of their own pockets or at the expense of KL taxpayers.
He reminded DBKL that nine out of 11 constituencies in Kuala Lumpur voted for the federal opposition.
Malaysiakini has reached out to DBKL and is awaiting response.
Umno was founded on this day in 1946 in Johor Baru.- Mkini