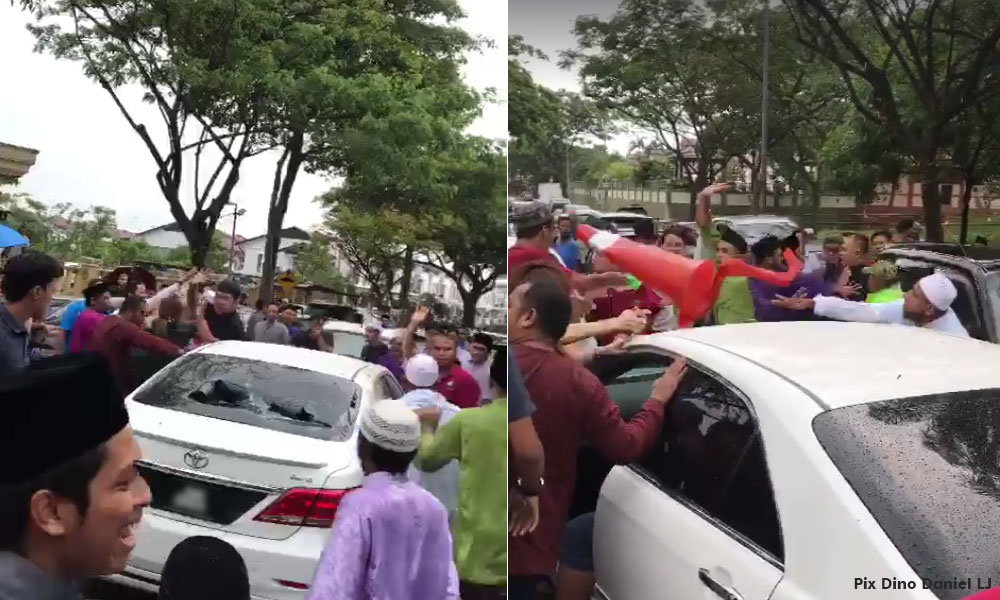 The driver who was assaulted after sounding his horn outside a surau during last week's Friday prayers has reportedly issued a public apology to all Muslims over his behaviour.
Sinar Harian quoted him today as saying that he did not mean any harm or to upset anyone when he sounded his horn repeatedly outside the Taman Austin Perdana Surau in Johor.
"What happened was that I was stuck in traffic and had urgent matters to attend to.
"This caused my car to be attacked and damaged, and I, too, have suffered injuries," said the driver Toh Chai Eun, 28, who appeared to be wearing a neck brace in Sinar Harian's photos.
Its report said Toh suffered injuries to his neck, legs, and body, and this impaired his movement and speech. His statement of apology was read out by his representative Mahadzir Abu Said.
The one-minute-and-ten-second video showing Toh being assaulted by a large group purported to be worshippers from the surau had been widely circulated through social media platforms.
Police have
arrested
four people under Section 147 of the Penal Code for alleged rioting, and
warned
others not to use the incident to inflame racial tensions.
Toh, a self-employed man, reportedly issued his apology at a meeting with Johor exco member for religious affairs Mutalip Abdul Rahim, Johor Islamic Council adviser Nooh Gadut and committee members of the Taman Austin Perdana Surau.
Toh was reportedly accompanied by this brother, Toh Chai Chung, 30.
Meanwhile, Chai Eun expressed hopes his apology would bring the matter to a close, and would not be used to to jeopardise racial harmony.
Surau committee chairperson Mohd Khaiidzir Ismail said he hopes the case can be wholly resolved.
"We are thankful for this meeting that was unexpected. Although the incident took place outside the surau, we as a committee have done the necessary," he was quoted as saying.- Mkini