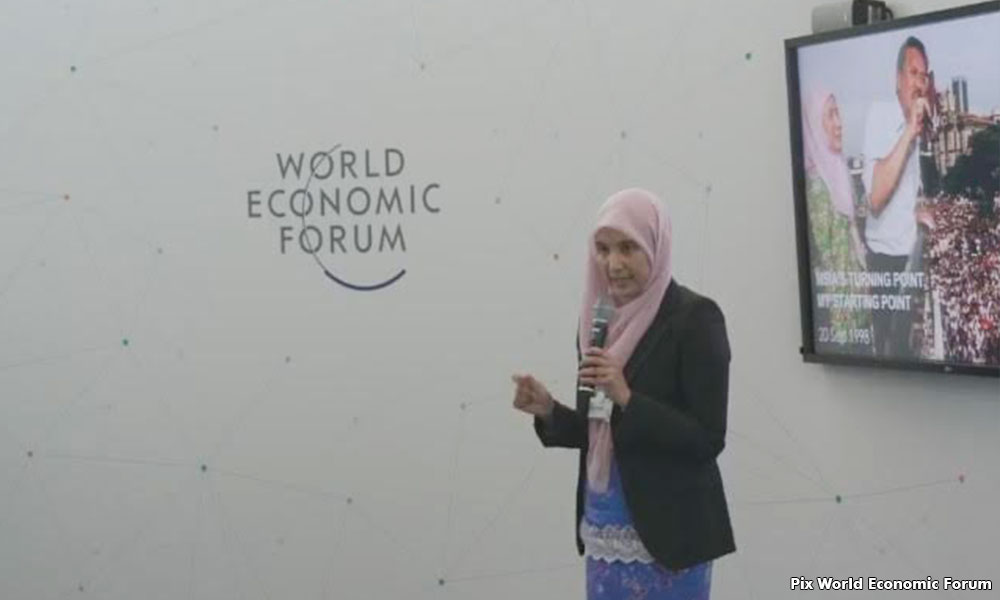 PKR vice-president Nurul Izzah Anwar was today asked about her relationship with former prime minister Dr Mahathir Mohamad by CIMB chairperson Nazir Abdul Razak, the brother of Prime Minister Najib Abdul Razak whom she is working to unseat.
Nazir was seated at the front row during Nurul Izzah's speech about her political evolution at the World Economic Forum in Phnom Penh.
At the end of her speech, Nurul began to take questions and had also asked if Nazir had any questions in mind, which prompted him to ask: "Can you share a little bit more about your first meeting with Mahathir Mohamad after everything, was it so easy to forgive him?"
Nurul Izzah responded by saying that the first time her eyes met Mahathir's was during a very difficult moment.
"You are talking about close to 20 years that have passed by, years of going to and fro to the prison to visit my father.
"But I think we must understand that while you might hate a man for his actions, you must not personalise his being.
"For me, I welcome everybody to be part of the reform agenda for as long as they are clear that there is no justification for any sort of dictatorship or autocracy," she said.
Her father, Anwar Ibrahim, was deputy prime minister when Mahathir sacked him in 1998 and subsequently had him jailed for corruption and sodomy.
However, Mahathir last year quit Umno and formed splinter Parti Pribumi Bersatu Malaysia (Bersatu) and joined forces with his former opponents in the opposition in a bid to oust Najib.
Elaborating on her answer, Nurul Izzah recollected the reconciliation process with Mahathir.
"It was a couple of times of meeting and I think I was always taught to be civil.
"Eventually, believe it or not, we spent Valentine's Day - not just with him, relax - I had a fundraising dinner on Feb 14 this year and invited him.
"He came with his wife together with other politicians," she said.
Nurul Izzah reiterated that if one was on the right path, even opponents could be converted.
"So remember, if you continue in the pursuit of justice, with objectivity, with compassion, I believe even the most autocrat of autocrats can be changed," she said.
Earlier in her speech, Nurul Izzah had described Mahathir as her "least-liked dictator", adding that thanks to what he did, she was now in politics instead of engineering.
However, she said ultimately, it was not about personal suffering, feelings or personalities and that there was a need to prioritise the nation above all else.
Nazir had also asked whether Nurul Izzah was treated well while she was in prison, to which she said that the grassroots policemen were very kind and civil.
Nurul Izzah was in 2015 arrested by police on grounds of sedition but no charge was brought against her. - Mkini