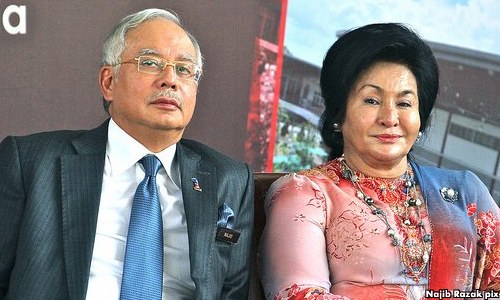 The National Transformation 2050 (TN50) dialogue with artistes last night may have been marred by a slapping incident, but it had its light hearted moment as well.
The dialogue had its gleeful moment when moderator Rosyam Nor teased Prime Minister Najib Abdul Razak about his love for wife Rosmah Mansor.
"I want to ask, if I may. What did you like about Datin Seri (Rosmah) before? What was it? How did you fall in love?" Rosyam asked, leaving the crowd in stitches.
Without missing a beat, Najib calmly said "I don't know. She had her allures."
This caused Rosyam and the rest of the audience to laugh, while Najib responded by giving the moderator a light shove.
Rosyam then quickly changed topics to focus on the entertainment industry.
The light hearted exchange took place prior to the question and answer session - which was when the now infamous slapping of director David Teo took place.
Teo was assaulted by comedian Mat Over when he tried to put a question to Najib.
Prior to that, Teo had raised his voice after he was not called upon to speak during the dialogue.
He claimed Rosyam and Najib, had only paid attention to those in front of them, and not the attendees who sat on the other side of the circular rostrum.
Rosyam agreed to allow Teo a chance to speak after Teo agreed to calm down.
However, comedian Sulaiman Yassin - better known as "Mat Over"- walked over from behind Teo and struck the director.
Sulaiman was heard berating Teo for being "rude" to the PM. - Mkini