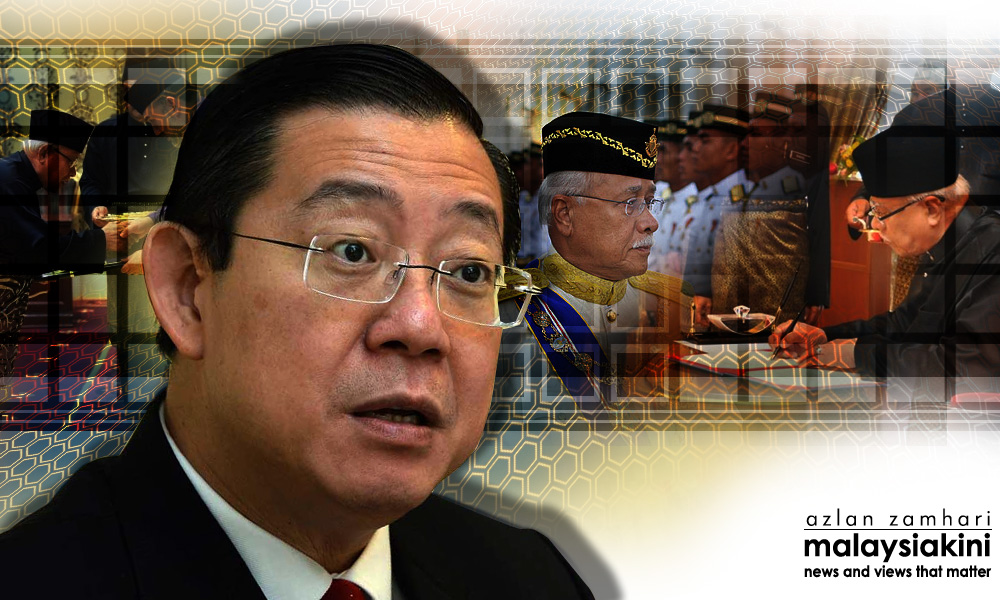 Penang assemblypersons who were absent from Governor Abdul Rahman Abbas' swearing-in ceremony on April 29 will be "penalised".
The move has been unanimously agreed by the state executive council, said Chief Minister Lim Guan Eng.
He said those involved will be asked to explain their absence and to detail their plans for their constituencies before they receive their outright grant of RM50,000 for the third quarter of this year.
The amount is part of the state's RM200,000 annual outright grant, which is disbursed in four parts, directly to the elected representatives.
"The allocation is not frozen, and the people are not affected. But there must be some sort of sanction on the assemblypersons who were absent during the ceremony, and we make no apologies for this," Lim said when asked about the matter at a press conference today.
Refusing to disclose the number of assembly representatives who did not turn up for the ceremony, Lim said they included those from PKR, DAP and Umno.
"The reps must have some respect for the seventh-term governor. He holds the highest post in the state. You cannot choose not to attend, unless you are overseas.
"You must have some sense of consideration, some sense of priority, importance, duty and responsibility and respect for the governor," he added.
"Are you trying to say that your function is more important than the governor?"
Lim was upset with PKR Penanti assemblyperson Norlela Ariffin, who took to Facebook to voice her grievances, claiming that her allocation would be blocked by the state government for merely not attending the governor's swearing-in ceremony last month.
Norlela did not attend the ceremony as she was at the Penang PKR
convention
in Seberang Jaya.
Hashtagged #RaiseFundForPenanti, Norlela expressed concerns that her allocation may be "barred or withdrawn" until September, as this would disrupt her plans for the Ramadan and Hari Raya aidilfitri celebrations.
She decried that money needed to be saved for emergencies like fire or flood, and that she may run out of funds to help accident victims, or those who were ill, and suffer death in her constituency.
Norlela claimed that she was only informed about the matter on May 12 by the Penang PKR leadership.
"I was only following orders from the party leadership to attend the PKR state convention on April 29, in Seberang Jaya," she lamented.
She further claimed that she was asked to remain in the event, which was attended by 1,000 supporters, while party boss, PKR president Dr Wan Azizah Wan Ismail, Penang Deputy Chief Minister I Rashid Hasnon and state excos Abdul Malik Kassim and Dr Afif Bahardin attended the governor's do on the island.
Checks by Malaysiakini today found that the said posting has been taken down but a print screen of the post was carried by a Sinar Harian today, in a report headlined "Peruntukan Adun Penanti disekat kerajaan negeri? (Penanti assemblyperson's allocation blocked by the state government?".
Asked about the matter in Komtar today, Lim asked: "Who dare to say that swearing in of the governor is not important, perhaps only Norlela.
"Even Kak Wan (Wan Azizah) and Rashid went for the PKR convention, which opened at 2pm, and left after that to attend the governor's swearing-in ceremony which was held at 4.30pm."
He said Norlela's outburst on social media was "unnecessary", when others who were also penalised did not rant as she did.
After all, Lim added, the sanction was "very minor - a light rap on the wrist".- Mkini