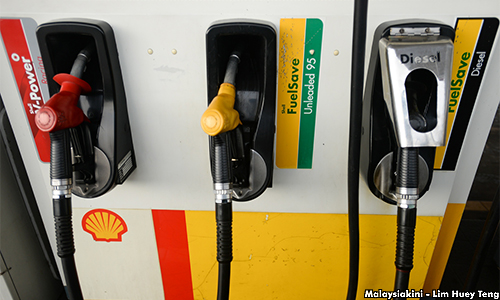 Fuel prices are set to end its three consecutive weeks of decline as the retail prices of RON95 and RON97 will go up by seven sen effective midnight.
The new retail price of RON95 and RON97 will be RM2.08 and RM2.36 per litre respectively.
As for diesel, it will see an increase of four sen, bringing the retail price to RM1.99 per litre.
This is the first fuel price hike since April 20.
The retail price of fuel is determined based on the Mean of Platts Singapore (Mops) and currency strength average of the previous week.
Global crude oil prices have seen a slight recovery following a sharp fall in the past weeks due to higher than expected output by the US shale oil industry.
The Organisation of the Petroleum Exporting Countries (Opec) is pushing to extend the supply cut of crude oil into next year to cope with the global oversupply.- Mkini