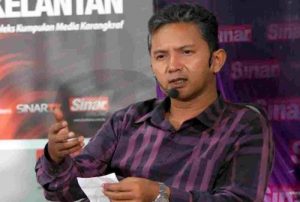 Dr Kamarul Zaman Yusoff
Beberapa orang pengkritik saya mempertikaikan tahap kecerdikan saya dan mengaitkannya dengan kualiti universiti tempat saya berkhidmat mahupun universiti-universiti tempatan lain.
Pengarah Komunikasi AMANAH merangkap Ahli Parlimen Shah Alam, Khalid Samad, menyifatkan saya sebagai "bodoh tahap maksima".
Setiausaha DAP Wilayah Persekutuan merangkap Ahli Parlimen Segambut, Lim Lip Eng, mempertikaikan kualiti kesarjanaan saya dan pensyarah universiti tempatan lain. Tulis Lim Lip Eng: "Many citizens are worried about the quality of our local university lecturers after Kamarul's statement".
Ahli Dewan Undangan Negeri Damansara Utama, Yeo Bee Yin, dilapor mempersoalkan kredibiliti saya sebagai ahli akademik yang sepatutnya berfikiran matang memahami konsep penulisan buku Hannah Yeoh.
Penolong Setiausaha Publisiti Wanita Kebangsaan DAP, Syerleena Abdul Rashid, mempersoalkan kelayakan saya sebagai ahli akademik. Tulis Syerleena Abdul Rashid: "Any sound minded Malaysian would laugh at the absurdity of his remark and quite possibly question his credentials as a learned academician".
Kolumnis Malaysiakini, Stephen Ng, menyifatkan saya memalukan dunia akademik, dengan menyifatkan saya sebagai separuh masak dan berpandangan sempit, dan ini dikaitkan beliau dengan ranking UUM yang didakwa rendah. Tulis Stephen Ng: "Kamarul Zaman Yusoff, a lecturer at Universiti Utara Malaysia (UUM), has indeed joined the ranks of controversial academic figures who continue to bring disgrace to the academia. Half-baked and narrow-minded political scientist is how I would describe him. If this is the kind of academic staff that we have at UUM, it is no wonder why UUM has never been ranked highly, locally and internationally."
Ada di antara pengkritik saya ini yang turut melabelkan saya sebagai ekstrimis dan mengaitkannya dengan kesesuaian saya untuk berkhidmat di universiti.
Penasihat DAP merangkap Ketua Parlimen DAP, Lim Kit Siang, mendakwa laporan polis saya menimbulkan soalan sama ada saya cocok dan sesuai untuk menjadi seorang pensyarah sebuah universiti awam. Tulis Lim Kit Siang: "Kamarul Zaman Yusof's false and malicious police report against Selangor Speaker and DAP Selangor State Assemblywoman for Subang Jaya, Hannah Yeoh, accusing her of proselytization of Muslims with the publication of her autobiography "Becoming Hannah", raises the question whether he is fit and proper to be a lecturer of plural Malaysia's public universities."
Naib Pengerusi DAP merangkap Ahli Parlimen Seputeh, Teresa Kok, mendakwa pandangan sempit dan ekstrim saya menyebabkan saya tidak sesuai untuk terus menjadi seorang pendidik. Tulis Teresa Kok: "Being a university lecturer, Kamarul's narrow and extreme way of looking at Yeoh's book makes one wonder if he is suitable to continue to be an educationist."
Pengerusi DAP Sarawak, Chong Chieng Jen, menyebut saya sebagai seorang pelampau yang tidak sesuai menjadi seorang pensyarah. Kata Chong Chieng Jen: "Not only is his bigotry act a shame to a multi-racial country of ours, but he, as a lecturer, will influence the minds of the younger generation to be more intolerant towards other religion."
Kolumnis Free Malaysia Today, Dennis Ignatius, menyebut saya sebagai seorang ahli akademik yang tidak berkaliber, berpandangan sempit dan pelampau. Tulis Dennis Ignatius: "It's hard to make sense of such convoluted and confused reasoning. That it should come from a university lecturer speaks volumes about the calibre of those now occupying positions of influence in our universities today. How long must our nation suffer the narrow-mindedness and bigotry of insecure people who still find it hard to accept that Malaysia is a secular, multiracial nation?"
Kepada semua pengkritik saya ini, suka saya tegaskan beberapa perkara.
Pertama, komentar saya bertajuk "Hannah Yeoh Contoh Hipokrasi Terbesar DAP" pada 10 Mei lalu, mahupun komentar-komentar lain yang berkaitan, hanyalah komentar peribadi yang dimuatkan di dalam Facebook saya sahaja. Begitu juga dengan laporan polis saya terhadap Hannah Yeoh pada 17 Mei lalu yang turut merupakan laporan polis yang dibuat di atas kapasiti peribadi saya.
Kedua-duanya tidak mempunyai sebarang hubung-kait pun dengan institusi pengajian tinggi tempat saya bertugas sekarang, iaitu Universiti Utara Malaysia (UUM), dan adalah cukup tidak kena untuk anda semua mengaitkan tindakan yang dibuat di atas kapasiti peribadi saya ini dengan UUM mahupun mana-mana institusi pengajian tinggi tempatan lain.
Tambahan pula, saya hanya mula bertugas di UUM pada 26 Januari 2015 dan tidak mempunyai sebarang jawatan tinggi di sini melainkan sebagai Pengarah Institut Kajian Politik Malaysia (MAPAN), sedangkan UUM sendiri telah berpuluh tahun wujud, jadi lebih tidak adil untuk mengaitkan tindakan saya dengan UUM.
Kedua, saya tidaklah sebodoh dan seekstrimis seperti yang anda sangkakan. Bukanlah niat saya untuk berbangga, tetapi disebabkan terpaksa, maka sukalah saya maklumkan kepada anda bahawa ijazah pertama saya adalah diperolehi dari sebuah institusi pengajian tinggi sekular dari sebuah negara sekular, iaitu dari Indiana University at Bloomington (IUB), Amerika Syarikat.
Ijazah Bachelor of Arts, Double Major, yang saya perolehi dari IUB adalah Dengan Kepujian Tertinggi (With Highest Distinction), iaitu yang dikhususkan kepada graduan yang menamatkan pengajian dengan memperolehi Cumulative Grade Point Average (CGPA) antara 3.90 ke 4.00.
Selain itu, saya juga adalah penerima Senior Achievement Award, iaitu satu anugerah yang dikhususkan kepada pelajar yang mempunyai rekod akademik yang cemerlang dan yang ditunjuk oleh jabatan atau pusat pengajian mereka sebagai mempunyai potensi luar biasa dalam bidang mereka (who have outstanding academic records and who are designated by their departments or schools as having unusual potential in their field).
Sewaktu berada di Amerika Syarikat, saya tidak mempunyai sebarang masalah untuk belajar dan bergaul bersama masyarakat bukan Islam dari luar negara. Saya juga tidak mempunyai sebarang masalah untuk bekerja dan bergaul bersama masyarakat bukan Islam di Malaysia. Malah, saya cukup menyenangi dan disenangi oleh mereka, termasuklah dengan para pelajar mahupun rakan setugas saya di UUM.
Setakat ini, pendapat yang saya kemukakan juga belum ada lagi yang mencerminkan kebodohan dan keekstrimisan. Saya selalunya akan berhujah berdasarkan kepada fakta dan sentiasa mengikut undang-undang.
Jadi sangatlah tidak betul jika anda menyifatkan saya sebagai bodoh, tidak berkualiti, tiada kredibiliti, tidak berkelayakan, tidak berkaliber, separuh masak, berpandangan sempit, ekstrimis atau pelampau.
Ketiga, walaupun saya sendiri baru lebih dua tahun bertugas di UUM, saya cukup berbangga dengan pelbagai pencapaian memberangsangkan yang telah diterima oleh UUM sama ada di peringkat kebangsaan atau di peringkat antarabangsa.
Terlalu panjang senarai anugerah yang telah diterima oleh UUM sejak beberapa tahun kebelakangan ini, tetapi dua contoh yang boleh diberikan adalah anugerah "the Best Eminent Management University in Malaysia" yang diberikan oleh Global Brands Magazine dan anugerah GIFA Market Leadership Award 2016 (Bagi Pendidikan dalam Perbankan & Kewangan Islam) yang diberikan kepada Islamic Business School (IBS) UUM oleh Global Islamic Finance Awards (GIFA) pada tahun 2016.
Jadi sangatlah tidak betul jika anda memandang rendah kepada UUM mahupun universiti-universiti tempatan lain yang setiap satunya tentulah mempunyai kekuatan masing-masing.
Yang sebenarnya bodoh dan yang sebenarnya ekstrimis adalah mereka yang tidak berhujah berdasarkan kepada fakta dan yang tidak mahu mengikut undang-undang, termasuklah juga mereka yang sanggup memperlekehkan semua perkara yang berbau keMelayuan atau keIslaman semata-mata untuk undi.