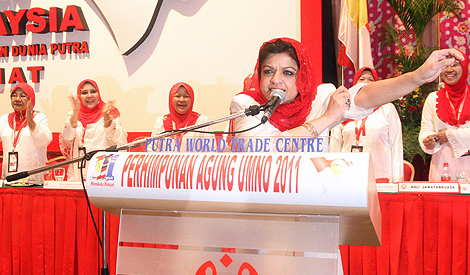 Wanita UMNO is ready to go all-out to face the 14th general election (GE14), said its chief Shahrizat Abdul Jalil.
She said the wing was confident as its members had been working with the people at the grassroots continuously and had became the "eyes and ears" of the government.
"Anytime the election is called, we are ready to go. All this while, we have been doing everything that we can for the people," Shahrizat said after handing over health assistance from Yayasan Kebajikan Negara (YKN) to a dialysis patient, S Subamah, 70.
Shahrizat also echoed what Prime Minister Najib Abdul Razak said, that the reason Umno remained relevant in the political arena was because it had never strayed from its path in fighting for the people.
"We have constantly fought for the betterment of the people, like what our president (Najib) said in his speech last night at the Umno 71st anniversary."
Last night, Najib, in addressing about 150,000 Umno members, said the party struggled not only for its members but the whole population regardless of race, religion and background.
Meanwhile, Petaling Jaya South Umno division deputy chief Mutalif Abdul Rahim said the party grassroots members were working hard to ensure that Umno and the BN would be able to regain Selangor from Pakatan Harapan come GE14.
"We are 100 percent positive that we can win back Selangor if this momentum is kept up and we always put the people first," he said.
Earlier, Subamah, who was one of the recipients of YKN aid, had received help for her dialysis treatment which costs RM31,000 per year. She also received a wheelchair as she could not walk due to a stroke.
"I am thankful for the aid as I could not afford it myself. This has helped ease my burden as well as my family's," she said.
YKN has six dialysis centres nationwide and spends RM3.37 million yearly to help those in need.
- Bernama