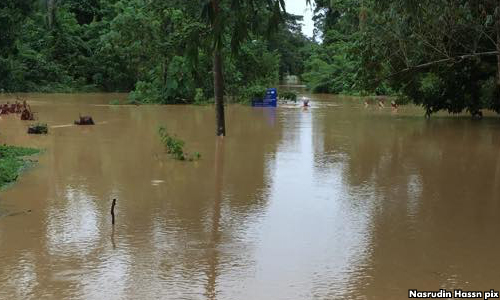 In less than 24 hours, Temerloh was once again hit by floods, followed by Raub, which saw 64 victims evacuated as of 9am today.
Pahang Civil Defence Forces (APM) director Zainal Yusoff said two relief centres were opened in Temerloh since 10pm last night, placing 38 victims from 13 families.
"A total of 32 people from 11 families were placed at SK Batu Kapor, while six people from two families were at Surau Kampung Bongsu, Mentakab," he said when contacted in Kuantan today.
Whereas in Raub, he said, 26 people from six families were sent to two evacuation centres ehich were opened last night.
He said the Kampung Pamah Rawas community hall housed 15 people from four families, while the community hall in Kampung Pamah Kulat had 11 people from two families.
Zainal said the APM was closely monitoring the situation in Mentakab, where the water-level was on the rise, while the floods in Raub were reported to be receding.
- Bernama