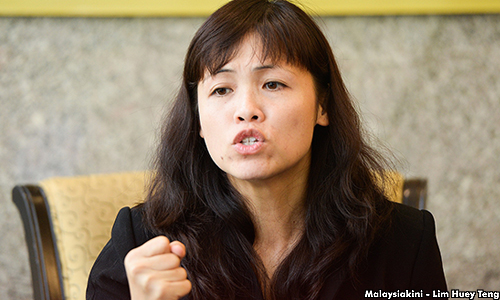 Following the arrest of an immigration officer yesterday, whose lavish lifestyle raised suspicions of corruption, a DAP lawmaker has questioned the luxurious lifestyle of Prime Minister Najib Abdul Razak and his family.
"I applaud the effort of the Malaysian Anti-Corruption Commission (MACC) to fight corruption. But they cannot ignore the elephant in the room.
"No use to go after the young officers and administrative assistants, but ignore the fact that our prime minister and his family are also famous for having a lavish lifestyle that does not commensurate with his official emoluments," Kulai MP Teo Nie Ching said in a statement today.
She said she had lodged a report with MACC Johor, two years ago, urging them to probe Najib and his family's wealth.
MACC told her, she said, possessing luxurious items is not an offence unless the items were procured through corruption and that they could not start an investigation unless there is a predicate offence.
"But, if MACC can seize the belongings of the immigration officer as they were believed to have been obtained from ill-gotten gains, they surely can go and seize the Birkin handbags, jewelleries and all luxurious items of Najib and his family to investigate if these were obtained from 1MDB and corruption," she said.
Yesterday, a 37-year-old immigration officer was detained by MACC for suspicions of corruption involving more than RM27.9 million.
He reportedly had in his possession five luxury cars, 13 luxury wristwatches and 13 branded handbags as well as a fixed deposit account of about RM1 million.
The amount of seizure amounted to RM2.5 million, including the officer's house in Jitra, Kedah.
Teo said that civil servants aged 40 and below who were arrested for graft by MACC between 2014 and 2016 have one thing in common, that is a flashy lifestyle that does not match their pay under the government pay scale.
In Hong Kong, she said, government officers who maintain a lifestyle that is above their pay grade is considered guilty of corruption, unless they can provide a satisfactory explanation to the court about their source of wealth.
"Being rich is, of course, not a sin. However, as an office bearer in government, it is important to be transparent as to the source of the fortune, so that people are assured that the politicians and government servants do not abuse the power and position to accumulate and build wealth.
"When the US Department of Justice (DOJ) openly said that US$681 million from a 2013 bond sale by sovereign wealth fund 1MDB was transferred to the account of 'Malaysian Official 1', how can our MACC not take any action when they vow to combat graft among the civil servants and to clean up the Malaysian public sector?" she questioned.
Najib has consistently denied abusing public funds and the attorney-general has also cleared him of any wrongdoing in these matters.
MACC has recently been sinking its fangs into various high-profile cases involving politicians and top civil servants.
This includes a case involving former Johor exco member and Umno state assemblyperson Abdul Latif Bandi, who was charged with 33 counts of graft involving a total of RM30 million.
There is also a case involving a former special officer to the Malacca Historic City Council mayor. The ex-officer was charged with money-laundering and criminal breach of trust involving RM19.3 million. -Mkini