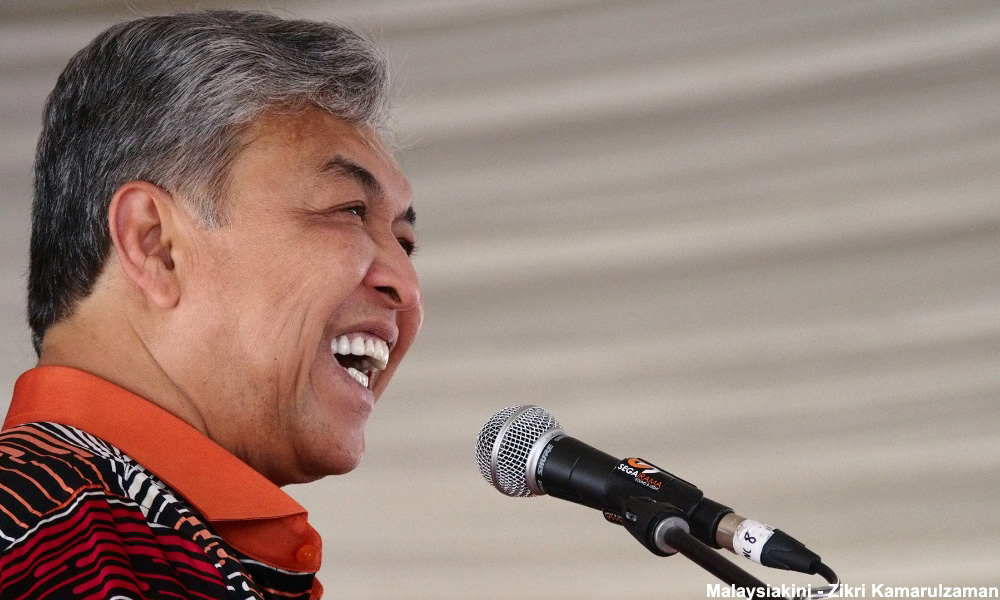 The Barisan Nasional must take the opportunity from the political crisis brewing up in Selangor to regain the confidence of the Selangor people in the party.
Deputy Prime Minister Ahmad Zahid Hamidi said the acceptance of the people in Selangor for BN would make it easier for the party to wrest the state from the opposition.
"We want the BN to rise up again to the political situation previously after the power that was held by BN was lost to the opposition coalition in Selangor.
"It must be done in a continuous and strengthened effort so that the people will again have strong confidence in the BN and Umno in Selangor," he said at a media conference after a meeting with the students and staff of Universiti Teknologi Mara (UiTM) in Shah Alam today.
Also present were Higher Education Minister Idris Jusoh, Urban Wellbeing, Housing and Local Government Minister Noh Omar and UiTM vice-chancellor Dr Hassan Said.
Ahmad Zahid said this when commenting on the resolution by the PAS central working committee at a special meeting yesterday, which decided that the three Selangor state exco members would remain in the administration of the Selangor government although the political cooperation with the PKR was terminated immediately on May 11.
This matter was announced by PAS deputy president Ibrahim Tuan Man who stated that an exco member besides the Menteri Besar must hold their position for as long as the Sultan of Selangor gave his consent under Article 53 Clause 77 of the Selangor State Constitution 1959.
The three PAS exco members are Iskandar Abdul Samad who holds the housing, building management and urban living portfolio, Ahmad Yunus Hairi (exco for education, human capital development, science, technology and innovation), and Zaidy Abdul Talib (exco for infrastructure and public utilities, agricultural modernisation and agro-based industry).
PKR president Dr Wan Azizah Wan Ismail said in a statement on Tuesday that the position of PAS in the Selangor state government would be decided by the PKR leaership after the Selangor Menteri Besar, who is also PKR deputy president, Azmin Ali returned from an official visit abroad.
Meanwhile, Ahmad Zahid, who is also Umno vice-president who assumes the duties of party deputy president, said the BN respected the Selangor State Constitution 1959 and the powers of the Sultan of Selangor.
He said BN was also not planning to analyse the latest situation in Selangor but was more interested in ensuring that the BN machinery be strengthened following the latest development.
"We should look at the efforts taken by Noh (Selangor BN chairperson) and the other members of the leadership at the divisional level to undertake continuous efforts to wrest back the state. I personally will come down to Selangor often to ensure that the ecosystem that has changed would be strengthened by the existing (BN) machinery," he added.
- Bernama